One of the most popular and innovative elements of the original Kingmaker pen-and-paper campaign was the introduction of kingdom-building and -management elements to the standard hack-and-slash gameplay of the tabletop RPG experience. Starting with the beginning of the second chapter, the players find themselves the rulers of a fledgling nation and are tasked with resolving conflicts, allocating resources, appointing trusted advisors, and even urban planning.
Players and Game Masters alike raved about the kingdom rules presented in the adventure path so much that we included them as a major section of Pathfinder RPG Ultimate Campaign a few years later. When we realized that the system would be ported over to the CRPG format along with the rest of the adventure path in Pathfinder: Kingmaker, we were excited to see how the folks at Owlcat adapted and expanded on the system.
Not only can you select what buildings and public works your capital will feature, but you'll be able to gather additional resources by uncovering hidden locations throughout the land during the course of your adventuring. Sit upon your throne, hear the pleas of your subjects, and decide upon their fate. How you resolve conflicts, who you select as your advisors, and whether you rule with an iron fist or a benevolent smile all influence your kingdom's destiny.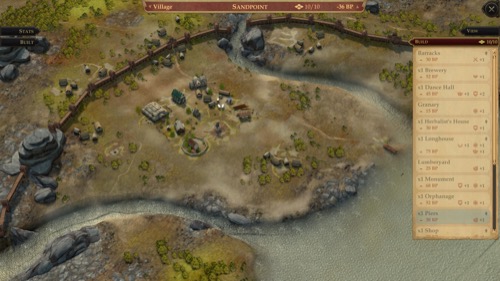 While you're out adventuring—whether you're more a diplomat, monster hunter, or canny explorer—you can leave those companions not actively in your party to manage different aspects of the kingdom in your absence. Even non-companion NPCs can fill such roles as treasurer or general, so who you befriend and who you make enemies of can have farther reaching consequences than you might expect. Balance the right skills with the needs of your kingdom, keeping the alignments and temperaments of your proxies ever in mind, to ensure the vision of your kingdom comes to fruition!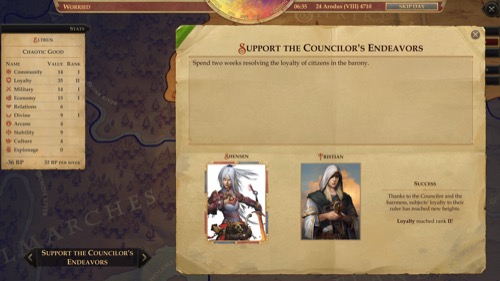 Now that the game's been out a week (Cayden's cup, time flies, doesn't it?) many players are likely already starting to shape their own kingdoms. I'm already starting to see some really exciting results on my favorite Twitch streams, message boards, and even some coworkers' computer screens! What's your kingdom's story?
Mark Moreland
Franchise Manager