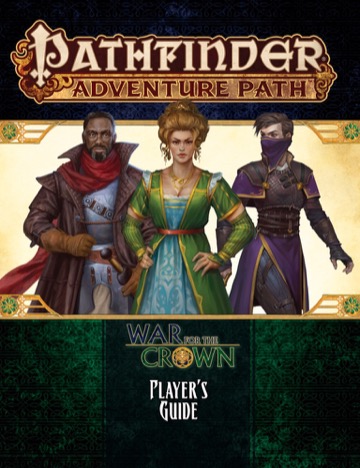 The long-awaited War for the Crown Player's Guide is now available! As chaos falls across the ancient land of Taldor and powerful parties move their pieces into place, the action of lone figures can shape the fate of a nation. Spies, assassins, and cultists rub shoulders with nobles and sages, and all of Taldor stands open for canny adventurers to save or exploit. But how do elves fair in the bustling human courts? What role does a woodsy hunter or foreign psychic have to play in events? This player's guide contains plenty of information and advice for the themes and challenges yet to come, and what classes and character options can help you prepare for them!
With the first volume, Crownfall, already on store shelves, everyone has been eager to see the Player's Guide as well to finally get started on their own campaigns. In addition to the usual character advice, the guide also includes a short, spoiler-free primer on Taldan history and culture, as well as simplified rules for social combat based on those from Ultimate Intrigue, not to mention a bonus NPC statblock for Princess Eutropia, a longstanding figure in the Inner Sea political arena!
Sieze control of your destiny and take the reigns on a nation! Download the War for the Crown Player's Guide today!
Crystal Frasier
Developer