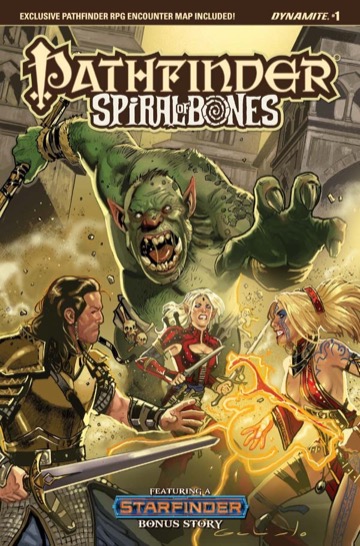 The newest entry in the exciting saga of Pathfinder comics hits the web and comic book stores tomorrow. This issue, Spiral of Bones #1, not only kicks off a gripping new five-part storyline, but it also marks the Pathfinder comics debut of our very own Crystal Frasier!
She's already done a few interviews with external media sites, like Comic Crusaders, Major Spoilers, First Comics News, and Know Direction. But these are mostly aimed toward the general comic fan rather than readers already familiar with Pathfinder, its characters, and its world. I sat down with Crystal to ask a few questions that seemed particularly pressing for existing Pathfinder fans—a paizo.com exclusive!
As a Pathfinder developer, you have a wide breadth of knowledge about the setting, its characters, and its ongoing plots. What inspired you to write this story, set here, and involving these characters?

I love the ways that roleplaying game settings are unique from other fictional settings, and one of the big ways that Pathfinder is so unique is the lackadaisical nature of death. Heroes come back from the dead all the time—all you need is a diamond and a friendly cleric. But what kind of world does that give you in practice, and what's death like while you're there? Valeros gets to look at that up close, and as our most... non-miraculous iconic, he's the perfect audience insert for encountering and reacting to this planar weirdness, while getting some of it explained for the lay fighter or casual reader.

Kaer Maga creator and former Paizo editor, James L. Sutter, makes a cameo appearance in a crowd on the opening page of this issue. What other Easter eggs can fans of Pathfinder and Paizo hope to find in this or later issues in the series?

There are a few here and there in the first issue, but none quite as big as Sutter grinning at the camera like a film extra. The remainder for issue 1 are mostly nods to fun setting elements, like the goblin love of pickles or classic cloaker paranoia. We get a little more free with the cameos in book 2; once Valeros is wandering around the afterlife we get to have a little fun by dropping in other characters from previous comics—many of them killed by or near Valeros.

This story arc features some crazy locations, certainly the most bizarre settings the comics have yet explored. Which was more fun: writing Kaer Maga or writing the Boneyard?

Why would you make me choose like that? I can definitely say that I am sad I didn't get to write more of Kaer Maga proper, as we move on pretty quickly from that very unique and interesting setting. I only really get to scratch the surface of a city varied enough for a whole series, and I hope I get the chance to revisit in the future. Until then, man, the Boneyard was a ton of fun to write!

One of this issue's variant covers and the comic's story itself feature Valeros and iconic inquisitor Imrijka engaged in some, shall we say, "adult activities." What's the story behind this pairing?

Imrijka and Valeros have been a popular fan relationship since we first introduce Imrijka in the Advanced Player's Guide, and they're one of the few relationships between iconics anyone has really talked about beyond Kyra and Merisiel. They're both fairly energetic and physical, but feel healthier being uncommitted, and neither are the type to judge someone at first glance. Plus, I honestly just think they make a cute couple. Or at least cute "friends with benefits," at any rate.
Thanks to Crystal for taking the time to answer these pressing questions!
"Pathfinder: Spiral of Bones #1" hits comic store shelves tomorrow and is part of your ongoing Pathfinder comic subscription here on paizo.com. In addition to the main Spiral of Bones story, this and all other issues in the series include a backup Starfinder story called "Helping Hands" by Paizo Chief Creative Officer and Publisher, Erik Mona, a Pathfinder RPG rules appendix, and a pullout poster map.
For fans in the greater Seattle area (or with the disposable time and income to make last-minute travel arrangements), Crystal will be doing an in-store signing at Outsider Comics & Geek Boutique in Fremont, tomorrow evening, March 21, from 5–7 PM. Don't miss it!
Mark Moreland
Franchise Manager