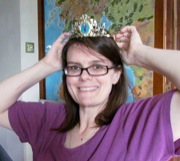 Hail and well met to the Paizo community! My name is Tonya Woldridge and I am the new Organized Play Coordinator for the Pathfinder Society Roleplaying Guild.
I am honored to be chosen and will strive to step up and swing for the fences. The creativity of my Pathfinder Society teammates, John Compton, Linda Zayas Palmer, and Tanis O'Connor, defies words. The dedication of the "Venture Officer Corp" is the stuff of legend. Together, we are working to bring you the best campaign possible and I look forward to unveiling more over the upcoming months.
Working at Paizo is returning to my roots. I grew up in Coeur d'Alene, Idaho, about 5 hours from the Paizo office, and spent 2 years at the relatively local University of Puget Sound. My extended family is dotted throughout the Pacific Northwest. I love the rain, mist, and mountains! If you want a beautiful vacation destination, the Olympic Peninsula is the best.
My gaming journey started in high school with 2nd Edition AD&D. Over the years, my various home groups worked their way through Earthdawn, and 3.0/3.5. We were on the Shackled City Adventure Path when Pathfinder Beta released, and our GM (My husband, 5-Star GM extraordinaire "Crispy3ed") converted the campaign from 3.5 to Pathfinder. I went to the third PaizoCon UK and was hooked on organized play. Since then, I've been a Venture-Lieutenant in the United Kingdom, a Venture-Captain in Canada, a Gen Con HQ volunteer for the past three years, and achieved 5 Star GM status. When the Adventure Card Game released, we started with the Runelords box set and have continued through the next editions.
My husband is a Master Sergeant in the United States Air Force and we have 2 children. As a military spouse, my family has been fortunate enough to travel the world, spending 14 of the past 18 years living in England, Canada, and Korea. Our US posts include Texas, Arizona, and Colorado. While not fluent in foreign languages, I understand Korean, German, French, and several varieties of English.
Outside of Pathfinder, I enjoy reading books across a variety of genres, with Anne McCaffrey, Sharon Shinn, George R. R. Martin, David Gross, and Diana Gabaldon all in my top 10 author list. Another hobby is researching historical methods of crafting, sewing, brewing, dancing, singing, and cooking. I have been a member of the Society for Creative Anachronism for over 20 years. This love of all things medieval led to getting a Bachelor's degree in History from the University of Maryland. I also have a Bachelor's in Asian Studies, as I fell in love with Korea when we lived there and needed to know more.
I thank the leadership at Paizo for their trust and support as we strive to bring a fantastic experience to the community.
Cheers!
Tonya Woldridge
Organized Play Coordinator