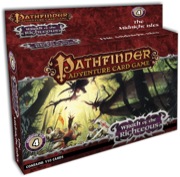 Heads up! Adventure Card Game fans will want to keep an eye out for the September issue of Game Trade magazine. Issue 187 comes with a special Wrath of the Righteous promo card: the cohort Valais Durant. Valais will also be sent to Pathfinder Adventure Card Game subscribers—in addition to the usual retailer promo card—along with Adventure Deck 5.
How do you follow up giving the players the chance to play as a succubus? Send them to the Abyss, of course! The Midnight Isles Adventure Deck does just that.
This is one of my favorite adventures. The characters are on a mission from the queen to find the source of Nahyndrian crystals and stop them from being refined into elixirs that can make demons mythic. To do so, they'll be exploring the Midnight Isles, a set of islands forged by a demon queen's imagination from the bodies of demon lords she's assassinated. Wow.
I've always loved exploring the options available when characters journey to the other planes, and it was challenging to put all of that in the card game.
The Midnight Isles is the first adventure deck where those rules are really put to the test. After the first scenario, all locations are considered to have the Abyssal trait (whether they normally would or not.) This can be a bit of a challenge for players who've spent a lot of time acquiring cards that work well against outsiders, since demons lose the Outsider trait here.
Finding the Way
Since this is the fourth adventure deck, the players now have roles, so the danger increases to match their increase in power. The first scenario of this adventure, The Abyss Gazes Also, has many intricate, challenging parts to it. First, I love that the players have to face all of the non-Abyssal locations before they can tackle the Abyssal ones. This severely limits their options and makes them work together. Plus the monsters they defeat don't go back to the box—they go into the Abyssal locations to be faced again!
There's also a nested Easter egg in this scenario. If a player moves to an occupied Abyssal location, he'll have to face an extra henchman, Minagho. Though this is fairly easy for the players to avoid, there's a bonus to fighting her. If you defeat her by no more than 6, you get a chance to snag a free cohort: Yaniel! Even better, Yaniel is her own Easter egg. She's the paladin that originally owned the sword named Radiance, which the players may have acquired by now. If they still have it, they can use Yaniel to transform it into Holy Radiance. It's a long and complicated road to get that card, but it's worth it!
This scenario also features a tricky location: the Grinder. This is where the villain will try to retreat if defeated, but the place also has an interesting feature you may remember from the Abyssal Rift. It flips! One side is innocuous, but if you gain a boon, BANG, it flips to the hard side and all banes get a +5 difficulty boost. This could be especially troublesome if the villain happens to retreat there. I love how all of these mechanics fit together!
Speaking of the villain, the Heart of the Fane is no slouch. Before the characters even fight it, they must EACH face a Vulture Demon. If they all win, they can finally catch a break... if they're willing to banish a Divine card they've earned (and take a small jolt.) If not, they must try to defeat the villainous barrier with an epic Arcane or Divine 20 check. If you fail, it will try to go to the Grinder, where it will probably enjoy that 5-point bump in difficulty.
Midnight Monsters (And Barriers)
There's an extra element of risk for characters facing many of the monsters in this adventure. Most monsters just deal a bit of damage, which you can hopefully soak with some armor, but these guys play for more serious stakes. For example, the Horned Demon requires you to make a Wisdom 12 check or shuffle a random card from your hand into the location deck. You could lose your best card before you even fight, and then you'll have to go looking for it again!
The Umbral Dragon has a clever little trick. It picks a random occupied location and everyone there has to succeed at a check to avoid BURYING THEIR ROLE CARDS. The deeper into this adventure path you go, the more crippling this could be. Oh, and if you don't defeat it the first time, it comes back!
Of course this deck has its share of temptations as well: four of them, to be precise. The Gift of Shamira is particularly tricky. You can choose to add 1d20 to a check to defeat a monster AND you get to draw 1d10+1 cards as well. That's all good, right? Oh, you rolled a 10 and you don't have 11 cards in your deck? Oops! And even if it doesn't kill you outright, it's going to make playing those cards you drew more difficult, since drawing to replace them could kill you anyway.
Isle of Boons!
The Midnight Isles also offer a bounty of rewards for those brave enough to explore them.
There are several Corrupted weapons here just waiting for someone to redeem them (or in the case of a Fallen Arueshalae, just use them!) The Stalker's Crossbow adds 1d8+4 to your Ranged combat check, and if you fail it, you get to reroll and add another 1d8! It just costs you a card off the top of your deck when you use it.
There are so many great spells in this deck, like Cape of Wasps and Pillar of Life, but I have to single out Terraform for special consideration because it messes with the fundamental rules of the game. If someone has this card, characters no longer have to fear a horrible price for closing a location. When they need it, this card just makes them automatically succeed... without the checks or costs or having to defeat demons with combat 40 checks.
Isle of Blessings!
There's one more little tricky bit to this deck (as if all the others weren't enough). Like many other decks, it introduces a new blessing: the Blessing of Nocticula. However, these don't just get shuffled into the box to pop up at random locations. Players have to EARN them.
In scenario 3, Nocticula's Attention, the villain is not a hulking monster, but instead a sort of bureaucrat named Vellexia. She stands between the players and the demon queen herself. Players must use their Charisma and Diplomacy to "defeat" her. If they fail, it's 1d20 damage straight to the brain. If they succeed, they may display a Blessing of Nocticula next to the scenario, and she scampers back to the location she came from. The players repeat this until they have amassed as many blessings as there are players, at which point, they win and collect all the ones they've displayed.
And let's not forget that every demon they defeat has a 1 in 6 chance of summoning Shamira.
I've barely scratched the surface of the wonders this deck offers. The Midnight Isles Adventure Deck is a well-oiled machine with great intertwining mechanics and surprises for the observant among the players.
Enjoy it with my blessing... and possibly that of Nocticula as well!
Paul Peterson
Adventure Card Game Designer