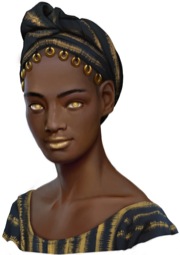 Illustration by Jakub Witowski
With Gen Con come and gone (see Mike Brock's blog updates and photos here, here, here, and here), and the tricky journey home a thing of the past, one might think that the Pathfinder Society production schedule would more relaxed. That's true relatively speaking, but we've still been busy catching up on Pathfinder Module and Pathfinder Adventure Path sanctioning. Emerald Spire's Chronicle sheets are nearing completion, and the remainder of Mummy's Mask is soon to follow.
Speaking of recent publications, I realized to my chagrin that the art for an important NPC in Pathfinder Society Scenario #6-03: The Technic Siege never made it into the scenario. I'm particularly excited about this piece, as the individual depicted is not only a longtime resident of Nantambu, the Mwangi city famed for the Magaambya school of magic; she's also an aasimar. I suspect this won't be the first time we see the "Dealer in Dreams both Tangible and Ephemeral" known as Aya Allahe.
Happy Gaming!
John Compton
Developer