Last year's Pathfinder Online Kickstarter included a whole spectrum of awesome rewards, with the higher tier incentives becoming increasingly unique. One of the top-level rewards included an advance look at Pathfinder Online, a tour of the Paizo and Goblinworks offices, a gourmet dinner, and a day of gaming with a Pathfinder GM of your choice.
Two groups of high-level backers got that red carpet treatment early in the year, with Erik running marathon sessions of his part of the Emerald Spire Superdungeon. Our third group just came through a few weeks ago and they were very clear about what they wanted to play. They'd been through Carrion Crown, so the natural next challenge for them was Bastardhall.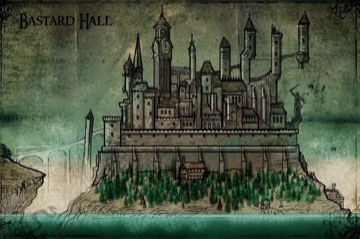 Cartography by Rob Lazzaretti
So, from 10 AM to 10 PM, I ran the highly coordinated team of Diana, Brandon, Jami, Heidi, Nicole, and Weston through part of my annually expanding terror-themed megadungeon, Bastardhall. This particular foray focused on the adventure I ran at Paizocon two years ago (adventure four in the ongoing series), The Black Gardens of Bastardhall.
Rather than recapping the entire session, here are a few highlights and pictures from the game.
The greenhouse near the gardens' entrance looks vine-choked and sweaty. In this party's case, that meant it was nobody's business.
Several shrines of the goddess Shelyn watch over the gardens, one still attended by a particularly nihilistic huecuva. The party tried to cheer up the depressed undead, but ultimately determined unlife was a worse punishment than destruction.
Hedge mazes can be confusing. One way to get through them is to start a massive fire. Of course, it's probably best not to start that fire when you're already in the middle of the maze.
Pathfinder Cards: Chase Cards 2 make a handy and pretty intense way to run a burning labyrinth. Give the party a set number of turns to escape, then start dealing escalating d6s of fire damage per round. Not all will necessarily survive.
GM Tip: When someone has driven hundreds of miles to spend a day gaming with you, it's poor form to permanently kill them in hour three of the game. Instead, bring them back as a juju zombie and secretly tell them "When I give the word, attack the paladin."
It's handy to have druids and nature sorts on hand. They can tell you that hangman trees don't think you're special just because you have fire.
Somehow, hungry flesh is even worse when it's covered in hay.
There are a lot of nasty things you can do with mosquitos. After numerous swarms and giant specimens, the group was definitely starting to dread every itch and buzz. Jamming a few mosquito swarms into a skinstitch scarecrow (Bestiary 4) doubles down on the trauma.
If the runes on any one of a dozen Kellid totems (see Pathfinder Campaign Setting: Lost Kingdoms) roughly translates in "mosquito god," it might be best to leave it alone.
Mosquito proboscises make fine rapiers, but even better flutes!
Players love it when you turn to one of them during the climax and say "That thing we discussed. Now."
Overall, the game was an absolute blast. Huge thanks to Brandon, Diana, and the whole hit squad from Oregon for not just backing Pathfinder Online, but for a fantastic day of gaming! Who knows, if the stars align again, maybe I'll see you guys at Paizocon 2014's foray into terror: The Silent Servant of Bastardhall.
F. Wesley Schneider
Editor-in-Chief