This Sunday, four members of the Paizo staff will do glorious battle with teams from other game companies for the right to claim The Gauntlet! Over the past week, we've been collecting donations to help our team improve its chances. These donations go directly to Child's Play, a charity that helps sick kids in hospitals around the world by supplying them with toys and games! So far we've raised over $3,000 for the Paizo team, which has earned us 8 "Power Ups" to use during the event. Reaching these goals has also unlocked some rewards for you!
As part of this event, we promised to release a primitive human race for use in your Pathfinder game if we reached $3,000. This is in honor of Ugg-tect, one of the games we will be playing on Sunday during the tournament in which the players take on the role of a caveman building primitive structures.
Download the Primitive Human PDF!
Of course, there are still plenty of other goals we can reach before the event begins on Sunday, including the following:
$3,500—Spoiler Reward: Spoilers about the upcoming Advanced Class Guide.
$4,000—Card Reward: We will release a PDF featuring the Gauntlet team members as new Ally cards compatible with the Pathfinder Adventure Card Game.
$4,500—Spoiler Reward: Even more spoilers about the upcoming Advanced Class Guide.
$5,000—Audio Reward: We will put together a "dramatic reading" of a chapter from one of our Pathfinder Tales novels, featuring members of the Paizo staff as the characters.
Remember, every dollar donated goes to support Child's Play. If you want to help our team, go to this link, enter your donation and make sure to put "For Paizo" in the comment box so that your donation goes to help our team.
Finally, you will be able to watch the event this Sunday, starting at 3pm (PST). It is being broadcast on twitch.tv through the NPCcast. During the event, we will also be auctioning off a number of Paizo prize packs live during the event. Check out the great products we are putting up for auction!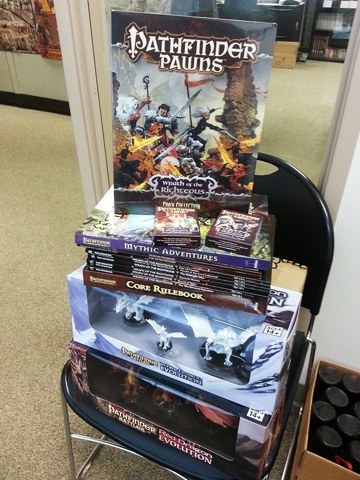 1. A Core Rulebook signed by the Paizo staff
2. The Ultimate Wrath of the Righteous game pack including
3. Pathfinder Battles Ultimate Dragon Pack including
All proceeds from the auction will go to Child's Play, so make sure to tune in and bid for these great prizes! Thanks again from the team for helping us in the event. We hope to do you proud and bring home The Gauntlet!