With the Reign of Winter set scheduled for release next month and the last three figures from that set being previewed last Friday, it's time for a very special event here on the Friday preview blog—it's time to reveal the next set!
I'm very pleased to announce that the next set of Pathfinder Battles prepainted plastic gaming figures will be The Lost Coast! The Lost Coast of Varisia stretches from the city of Magnimar to the mighty Fogscar Mountains. It's a wild and desolate country full of lingering fogs, small woodlands and crashing waves. It's also a land of cultists and bandits and monsters of all description. Many an adventuring party has travelled to the Lost Coast seeking fame and riches, never to be heard from again...
The Lost Coast set contains 45 figures, and is scheduled for a November 2014 release. The set is not based on a specific Pathfinder Adventure Path, like Reign of Winter or Wrath of the Righteous. Rather, the creatures in this set take their inspiration from the wealth of Pathfinder products released to date, with a special focus on creatures native to Varisia, home of several of our Adventure Paths and some of our most popular releases across all our product lines.
Expect to see a wide variety of monsters, heroes, and humanoids culled from these sources. We'll fill in some gaps for encounters based on existing Pathfinder Battles figures, and flesh out some entirely new monster types we have not yet produced in the line.
I'm very excited by this set. For the first time in a long time, we were able to build an entire set around simply which creatures and images would look coolest, and which would be useful to the largest number of players. Adventure Path-themed sets are great and lead to some really unique figures that we otherwise would probably not do, but with sets like The Lost Coast, it all comes down to table use and illustration quality, period.
Oh, and the Gargantuan case incentive, the mighty Shemhazian Demon, is face-meltingly awesome. I don't want to spoil things by bragging about it before we show the image (which isn't quite ready yet), but you guys are going to freak out when you see this hideous creature. It's the biggest—and heaviest—Pathfinder Battles figure produced to date. Given that people have been asking for this creature since our second set, Rise of the Runelords, I am happy to finally provide it.
But, as I am wont to do, I'm getting ahead of myself. The Shemhazian will get his place in the spotlight in due time. In the meantime, let's take a look at three of the set's "troop builder" units—the Cult of Lamashtu.
Here we have a Lamashtu Cultist, inspired by the art from the first 12 issues of Dynamite Entertainment's Pathfinder Comics. The cultist is depicted holding a bubbling cup of magical liquid—the mystical waters of Lamashtu so pivotal to that series and to events in the Rise of the Runelords Adventure Path. This figure in particular is drawn from art by original Pathfinder comics illustrator Andrew Huerta, so the face in particular is a little more expressive than in several of our other figures. I love it. This guy is definitely unhinged. The Lamashtu Cultist is a Medium, common figure.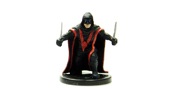 A cultist ain't nothing without some muscle to back him up. This set contains two examples of the sort of armed scum that make a cult work. Lamashtu Thug 1 is good for up-close work with a couple of nasty daggers and a domino mask, just as we saw in Pathfinder Comics #7–8. As a Medium common, you can combine this figure with the other minis in today's preview to build a really sweet battle against agents of the cult of Lamashtu. For that matter, this guy easily doubles as a bandit, highwayman, or even a masked player character.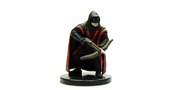 Lamashtu Thug 2, here, is ready to back up his team with his trusty crossbow. His colors match the robes of his companions. There's a bit of wash-out on the photos here that makes the robes look a little less detailed than they do in hand. When all three of these guys stand together they look really imposing and awesome. The Lamashtu Thug 2 is a Medium, common figure.
And that's not all. The set also includes a few other figures that work in concert with the Lamashtu cultists, including leaders and monsters—but we'll get to them in future weeks, as their paint masters have not yet been completed.
As I mentioned, these figures take their inspiration from Dynamite's Pathfinder Comics. We're about to start up a new Pathfinder comic series, Pathfinder: City of Secrets, which brings the iconic characters to the city of Magnimar (on the Lost Coast, naturally). All issues of the new series contain detachable poster maps, and the first one comes out in just a week and a half, on Wednesday May 21st. You can set up an ongoing subscription to the comic to make sure you don't miss a single issue. With a hot new artist, poster maps and Pathfinder RPG encounters in each issue, and a fun urban storyline, I expect the new series to sell well and rapidly. Make sure you don't miss out!
That's it for this week. We'll have much, much more to say on this set and many more figures to preview in the weeks to come!
We'll see you on the Lost Coast!
Erik Mona
Publisher