Before we get to today's Reign of Winter miniature reveals, I want to focus on a couple of important general changes to the Pathfinder Battles line that will begin with this set, both in terms of the number of figures per set and in terms of the subscription benefits offered to ongoing Pathfinder Battles Case Subscription.
Number of Figures Per Set
Starting with Reign of Winter, Pathfinder Battles sets will go to 44 figures plus the Gargantuan case incentive figure. This reduction in number of figures per set is designed to help WizKids get its costs in line, and also comes with the added benefit of providing more common and uncommon figures to folks who buy their miniatures by the case (something a lot of customers have been asking for). The number of figures in a case, brick, or booster does not change, just the composition of the set in terms of total sculpts.
A case should still contain a full set (as always in the case of a collated product we can't guarantee this, but it's certainly the goal). Below is the model rarity breakdown for a case:
56 commons, 32 uncommons, 8 rares, 28 large uncommons, 4 large rares.
Here is the figure breakdown for the Reign of Winter set:
7 common (Small), 6 common (Medium), 11 uncommon (Medium), 8 uncommon (Large), 8 rare (Medium), and 4 rare (Large).
The total number of figures per case and the overall price of the case will not change. The specific figure size breakdowns will differ slightly from set to set, but the model rarity breakdown should be stable from release to release.
Case Subscription Changes
When we started the Pathfinder Battles line, the original plan was to supplement set releases with frequent Encounter Packs, Builder Series mini-sets, and other "one-off" releases. These have proven to be less popular than we'd hoped both with the audience and with our partners at WizKids, so as time has gone on we've produced significantly fewer of these special releases than we'd planned to.
We set up our Ongoing Case Subscriptions—a vital backbone to keeping the Pathfinder Battles line in production since it establishes a baseline of sales for the brand—with these special releases in mind. The current model earns subscribers discount codes to use on these releases, with three different discounts for the case incentive figure, special Encounter Packs or Builder Series releases, and another discount for loose singles sold on paizo.com.
Starting with the Reign of Winter set, the Ongoing Case Subscription benefits will change to:
The right to purchase one limited-edition case premium figure at 75% off its normal retail price per case ordered. (Same as existing benefit)
30% off the normal retail price of ALL Pathfinder Battles products on paizo.com, including the cases ordered as part of your subscription, all previously released product, all Encounter Pack, Builder Series, or special releases, and all loose, unpackaged singles.
To recap: Active a ongoing Pathfinder Battles Case Subscription to the Pathfinder Battles line receive a 30% discount on all Pathfinder Battles-branded products on paizo.com except the limited-edition case incentive figures, which can be purchased at 75% off. These discounts bring our pricing in line with other online retailers.
These benefits last only as long as your Pathfinder Battles Ongoing Subscription, and go away if you cancel your subscription. Existing coupon codes provided as part of our ongoing Case Subscription benefits remain active. Even though they are for 20% off instead of the new 30% discount, they can be used even after you've stopped your subscription.
It may take us a little time to update paizo.com to reflect these new changes, but they will be in place by the time Reign of Winter is scheduled to ship to customers in late May.
We think these new subscription benefits are easier to understand and more attractive to Pathfinder Battles fans. Our ongoing Case Subscribers are absolutely vital to the continued success of the Pathfinder Battles line. If you are collecting every set, I strongly encourage you to sign up for an Ongoing Case Subscription today. It really is the most important thing you can do to encourage a long and healthy life for Pathfinder Battles. We certainly appreciate it.
Today's Reign of Winter Previews
With all of that business out of the way, let's take a look at a few of the remaining figures from the Reign of Winter set!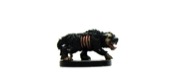 Up first this week is the Zombie Panther, a nasty undead great cat ready to pounce on your player characters! This mangy critter is covered in spots exposing rotting flesh beneath its fur, from a nasty bit of exposed ribcage along its side to a significant element of his face where the skull is completely visible. I'm holding the production figure in hand as I write this, and I'm impressed with the effectiveness of what amounts to a pretty simple figure. At the common rarity, you'll have enough of this gross undead animal to build a neat encounter. It also makes a great familiar for a necromancer!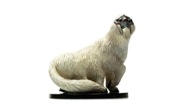 Here we have the Wolliped, an eight-legged beast of burden from the snow planet Triaxus. Though Wollipeds do not play a prominent role in the Reign of Winter Adventure Path, they do appear on page 90 of Pathfinder Adventure Path #70: The Frozen Stars, which also features Triaxus heavily. I threw the Wolliped in this set as my "Erik's Choice" figure because I thought he looked cool and I'd never seen anything like him in plastic before. As a big fan of planetary romance novels like A Princess of Mars, I'm also a sucker for alien mounts with too many legs. The Wolliped officially has an intelligence of 2, but the figure's face is quite expressive, and he could easily double as some sort of intelligent creature. He's slated at the uncommon rarity, and is a Large creature.
Last up this week is Zavackuul, a reclusive and eccentric aberration who dwells in an icy fissure somewhere during the Reign of Winter Adventure Path (no spoilers!). Zavackuul is a compulsive collector of victims, whom she entombs in ice and displays in her lair. The simple (but effective) paint job on this figure looks great, but the real stand-out here are the six (!) tentacles whipping off her central form, bringing a great sense of dimensionality to the miniature. Zavackuul is a Large, rare figure.
And that's it for this week. Please consider setting up an Ongoing Case Subscription to make sure you don't miss a single Reign of Winter figure!
Until next week,
Erik Mona
Publisher