WOW! Today has been so crazy busy here at the Paizo offices that I only now realized that I needed to write a preview blog for the Reign of Winter set of Pathfinder Battles prepainted fantasy miniatures! The set is scheduled for a May release, and since time is short and our web team certainly wants to get out of here before Midnight, I'm going to keep today's preview short and very, very sweet by giving you your first good look at the set's limited edition "case incentive" figure: the Gargantuan White Dragon!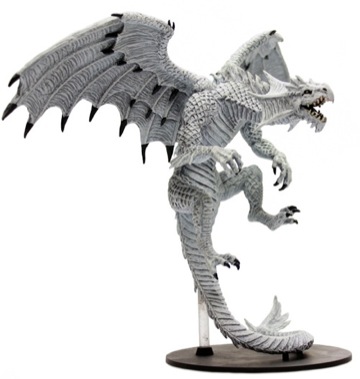 The Gargantuan White looks amazing in person. Captured in mid flight, the figure is taller than other dragons we've released so far, and every bit as menacing as his case incentive cousins, the Gargantuan Blue Dragon, the Gargantuan Skeletal Dragon, and the Gargantuan Green Dragon.
As with previous case incentive figures, the Gargantuan White Dragon will be produced in extremely limited quantities as a premium for customers who preorder a case of Reign of Winter figures. Subscribers to the Pathfinder Battles line receive a substantial discount on the figure, as well, so if you haven't yet become a case subscriber, please consider doing so!
That's it for me this week. See you next Friday for more exciting miniature reveals!
Until then, I remain,
Erik Mona
Publisher