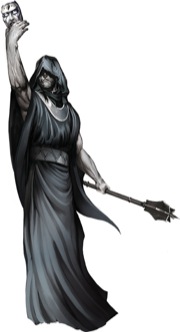 Illustration by Diana Martinez
If you haven't heard, Paizo Publishing will release the playtest rules for the upcoming Advanced Class Guide tomorrow, Tuesday, the 19th of November. That's ten new 20-level base classes that combine features of the existing classes to create innovative options with both unique powers and familiar mechanics with novel twists. I'm sure that by the time you finish reading through all ten, you'll have multiple character concepts screaming to be put on paper.
These classes are available for use in Pathfinder Society Organized Play immediately upon the release of the playtest document. You'll need to have a print or PDF copy of the playtest document with your character, and you'll need to incorporate any changes established by the design team or campaign staff during the playtest as well as once the final versions of the class are released in August 2014. The Additional Resources list will have specific details about what is allowed in the campaign and should be referenced when creating a character that uses any of these classes. Remember that everyone is gaining access to these playtest documents at the same time, so be a good roleplaying game citizen and plan to arrive early to any game for which you're using these rules so that you can discuss them with your GM, help her to understand how the class works, and give a friendly heads-up about what your character can do. Sure, you may only have a single class to learn, but the GM may have to handle six new classes at once.
Also, don't forget that in a little more than a week you'll have The Confirmation, a brand new Tier 1–2 Pathfinder Society Scenario designed for unlimited replay by 1st-level characters (yep, we extended the level range). That sounds like an ideal adventure to test out those new character concepts.
I'm always excited to see new character options because it gives me tons of character ideas. Sometimes I get a cool idea about synergy between feats, class abilities, or spells, which leads to a powerful character, but after building and playing however many dozens of aspiring adventurers, nobles heroes, and dastardly antiheroes, I recognize that sometimes new mechanics are most helpful in designing new personalities, backstories, and comprehensive concepts. In fact, some of my favorite characters are those that I or a friend built to break the mold of what is expected in a class: a barbarian whose rage power choices make her behave like a druid who channels elemental power, a "paladin" of Cayden Cailean who is actually a bard that chose spells to replicate paladin abilities (e.g. remove fear, cure light wounds, etc.), and most of all a "cleric" of Razmir.
When I play Jokhas, that "cleric," I have two character sheets: a real one that records my actual stats (that I show to the GM before the game) and a somewhat reflavored one that renames many of my class abilities and spells. When Jokhas the priest of Razmir casts a spell that's obviously unavailable to clerics—such as black tentacles—I often get some strange looks before sharing a knowing wink with the GM and then explaining in character that Razmir grants all magic and transcends the arbitrary limitations set by less caring deities. That said, Jokhas (member of the Silver Crusade faction) is also delusional, believing Razmir is a benevolent but stern god of glory, love, and prosperity who must regrettably strike down nay-sayers to remind mortals that justice is not to be mocked. It's usually at the end of the game that I reveal to curious players that Jokhas is a witch with a healing patron and has renamed his hexes as "miracles." Of course, anyone with Spellcraft can identify Jokhas's renamed spells or make other relevant checks to learn about what he's really doing. For Pathfinder Society Organized Play, it's important I not change how burning hands works or appears, but that doesn't stop me as a player from calling it the fires that destroyed Melcat.
What's most interesting about playing such a character, though, is that it inspires a different mentality in my fellow players. The character is not an 8th-level witch with familiar rules mechanics; instead he's a strange and enigmatic spellcaster, drawing others' attention to his style and presentation and less to the numbers on the character sheet. When he calls on Razmir's blessings, the results seem as miraculous to the players as to the player characters. In a way, it's one more step toward immersion in the setting and the story.
So as you explore these ten new classes, don't just limit yourself to considering mechanics—though please do provide feedback about balance, flavor, and other features important in the playtesting process; let these options inspire you to create a truly unique character personality that your region will be talking about for years to come.
Do you already have such a character?
John Compton
Developer