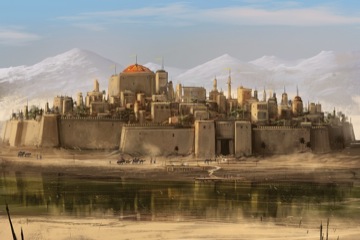 Illustration by Mark Molnar
The other day, Wes showed up in our cube with a treat: a peak at an advance copy of Pathfinder Campaign Setting: Towns of the Inner Sea. I finally got to see my town, Solku, in print!
When the list of available towns came out, I immediately jumped on Solku, excited to explore this diverse corner of our world. Solku isn't as famous as the much larger city of Katapesh, but it's a fascinating place: founded by cultists fleeing persecution, preyed on by gnolls and fellow Katapeshi alike, at once pious, mercantile, and afraid. It's decidedly good, but that doesn't mean life there is easy (as exemplified by the story of Solku's most famous resident, the iconic paladin Seelah)—the town is plagued by frequent attacks by gnoll bandits and slavers, and crowded with long-term refugees. Being good also doesn't guarantee the well-intentioned inhabitants all get along; the widening rift between the civilian government and Sarenrae's church is another major source of tension in the town. And, of course, Solku also has its fair share of con artists, madmen, and more!
I tried to write about Solku like it was my own hometown—with a tangled mix of love and pride and frustration. After all, while this book is partly about showing that adventure isn't found only in dungeons and major cities, it's also about exploring places and cultures that your characters could call home!
Judy Bauer
Editor