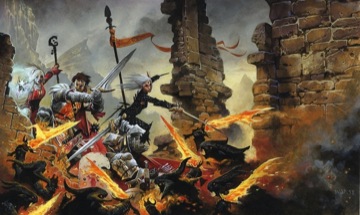 Illustration by Wayne Reynolds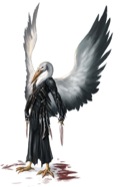 Illustration by Tyler Walpole
As first illustrated in Pathfinder Campaign Setting: Book of the Damned—Volume 2: Lords of Chaos the brimorak looked terrifying, but seeing them alone without any perspective it's easy to forget that these fiery demons stand about waist-high to a human. However, in this cover illustration by Wayne Reynolds it doesn't look like the brimoraks are letting their short stature get in their way of taking on the iconics.
In this volume of the Wrath of the Righteous Adventure Path, "Sword of Valor," Neil Spicer brings you the second adventure in the campaign. In this adventure, the PCs are commanded to lead an army north into the Worldwound to retake the lost city of Drezen and reclaim the magical Sword of Valor. If the PCs are successful in their siege and they defeat the citadel's protectors, perhaps they can recover one of the crusade's greatest artifacts and turn the tide of battle.
Also, it's been mentioned before that each volume's Pathfinder Bestiary contains stats for a different demon lord, and this month's Abyssal ruler is none other than Shax, weighing in at CR 28. (My response after seeing Shax's illustration come in was, "Knives, knives, knives, knives, knives, knives, knives!") Don't worry, the PCs won't have to face him in the adventure. The same can't be said of other demon lords featured in the future.
Adam Daigle
Developer