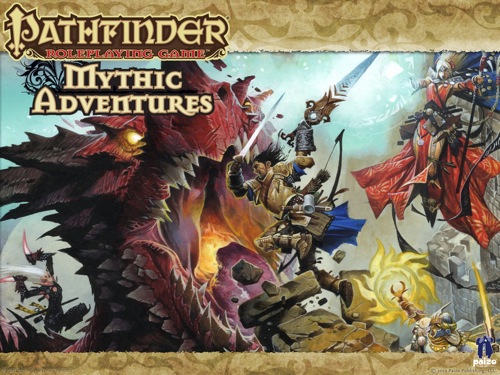 Illustrations by Wayne Reynolds. Widescreen version
here
.
Summer has begun and everyone at Paizo is gearing up for PaizoCon and Gen Con. While we're all running around the office, check out this super cool desktop featuring our August release, Mythic Adventures. Mythic Adventures allows your characters to advance in one of six new character paths, details new mythic feats and spells, contains a horde of mythic monsters, and so much more! Also, be sure to look for more mythic options in Pathfinder Player Companion: Mythic Origins and Pathfinder Campaign Setting: Mythic Realms this September.
This Friday marks the start of PaizoCon, where we'll be live blogging throughout the convention. Stay tuned for coverage of the convention and announcements!
Tomorrow's Web Fiction blog has been postponed to next week, featuring a return to the River Kingdoms in "Best Served Cold!"
Chris Lambertz
Digital Products Assistant