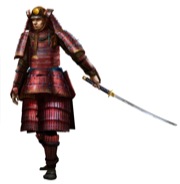 Illustrated by Lindsey Wakefield
Ever since we divulged which factions would disappear, the forums have been humming with speculation, questions, and clarifications about exactly how the whole faction retirement process will work. In brief overview, we are removing two factions from the available options for Pathfinder Society Organized Play. These factions are not necessarily disappearing from the face of Golarion, but for a variety of reasons they are withdrawing their direct involvement in the Pathfinder Society. Two new scenarios, #4-21 Way of the Kirin and #4-23 Rivalry's End, allow Lantern Lodge and Shadow Lodge faction PCs respectively the opportunity to play through their factions' conclusions. Of course, anyone can play these scenarios, but there's a special something waiting for members of the above factions. On August 14th, whether a person has played the scenarios or not, the two factions will be removed, and all existing Lantern Lodge and Shadow Lodge characters will have to switch factions.
Allow me to provide a compiled list of answers for as many of the many questions as I can.
Can I play a pregenerated character and get credit?
According to the Pathfinder Society Guide to Organized Play, pregenerated characters are treated as members of the Grand Lodge. As a result, playing a pregenerated character does not grant a player access to the faction-specific boon.
I have a Lantern Lodge character who is 8th level or higher. Shouldn't I have an opportunity to experience my faction's conclusion?
We are allowing GMs to do something special for these two scenarios. Anyone who GMs the scenario can apply the sheet to a character of level 8+ even though the character would not normally be eligible to receive credit. This Chronicle sheet includes the experience point, Prestige Points, items, and gold for Subtier-6–7.
My Lantern Lodge or Shadow Lodge character is not yet level 3. What happens if I assign him GM credit before August 14th?
Follow the normal rules for assigning a Chronicle sheet to a character from GMing; the Chronicle sheet is held until the character reaches a high enough level to qualify for earning the Chronicle sheet. The key difference is that the character's faction might change by the time the Chronicle sheet kicks into effect. If the character does not reach 3rd level by August 14th, the character will no longer be a member of the Lantern Lodge or Shadow Lodge and will no longer qualify for the faction-specific boon(s).
What happens if my Lantern Lodge or Shadow Lodge character doesn't play the scenario before August 14th?
Your character will receive the free faction change on August 14th but no other benefits. The character must choose a new legal faction the first time he plays a scenario on or after that date.
Happy pathfinding,
John Compton
Developer