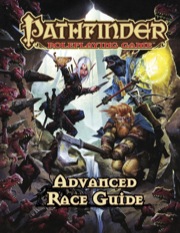 Of all the feedback I receive about Pathfinder Society Organized Play, whether it be in person when I am visiting different regions, through emails, or on the messageboards, what I hear most is that non-convention-goers have little to no chance to obtain some of the convention-only boons that are offered at regional shows. The most popular of these boons are the racial boons, which open up the player's options to choose a unique race. I have thought long and hard on how we can even out things for those players who are not able to attend a convention for whatever reason.
First, let me clarify that we will always have special boons that can only be obtained at conventions. These will consist of a multitude of various options, from extending the range of the Day Job earnings chart to unique races. Our regional and national conventions and larger game days are where we garner the biggest PR for our game. But that doesn't mean I don't want to offer the chance of getting cool boons, especially racial boons, to members of our player base who don't attend conventions.
At these regional conventions, players only receive approximately a 10% chance to receive any boon that is provided at the convention. I don't think it is unreasonable to offer a similar chance to non-convention players.
One tool that has finally been opened to me is I am able to filter play of individual scenarios, and to see every reported table and every Pathfinder Society number that was at that table. I am also able to filter dates so I can see exactly how many tables of a specific scenario were reported over a specified time. Playing around with this new tool got me to thinking about how I could utilize it for the benefit of the entire Pathfinder Society player base.
My initial thought is that when a scenario presents something unique, such as helping a race like ratfolk, catfolk, or dhampirs (and no, I am not advising one way or another whether either of these races will make an appearance in Season 5), it might be possible to offer these races (or whatever races were aided in a specified scenario) via a lottery type of system. While I certainly don't want to flood the OP with a zoo of races (such as making them available on a Chronicle sheet for everyone who plays the specified scenario), I don't think it is a bad thing to occassionally give a limited pool of players the chance to play a new race, similar to the Grippli boon at Gen Con this year, as long as we control the flow of how many become available. With that said, my thinking is that after the first month or two of a specified scenario, I would randomly select from all tables that reported success in the specified scenario. All the players and GMs of the randomly selected tables would then have the unique Chronicle sheet sent directly to them.
Maybe this is or isn't the best way to offer unique boons to the entire playerbase, especially those who can't or won't attend conventions. However, it is the start of a working idea I am still toying with that would offer an equal chance to everyone who plays the specified scenario in a specified time limit. If you think this is a horrible idea, please offer a solution for how we can make it better. I would very much like to hear your feedback on what you think of the above system, or hear your thoughts on any other suggestions you might have for how to best utilize this new tool I have been given. As always, your feedback and comments help to strengthen the community at large, and without your feedback and participation, Pathfinder Society wouldn't be as awesome as it is today. I look forward to reading all of your comments.
Mike Brock
Pathfinder Society Campaign Coordinator