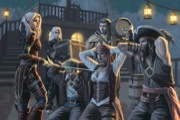 Illustration by Craig J Spearing
The sunny skies that Paizo has experienced over the past week have provided a great opportunity to get outside and enjoy the weather. Apparently we weren't the only ones thinking that, and true to form, the pirates of the Shackles paid a visit, boarded the vessel carrying our latest shipment of Chronicle sheets, and spent the weekend roistering just beyond our reach. As I have learned in my move from a relatively landlocked area to the Pacific northwest, such is the price we must pay for good seafood.
Once the pirates realized just what a prize they now hold—I hear the boons are the stuff of legend—they offered to ransom the Chronicle sheets back for the paper's weight in gold! Villains! What I propose is more devious and hopefully far more to the liking of the swashbuckling sorts that frequent the Pathfinder Society. We shall build up our strength and launch a daring raid to take back what is rightfully ours.
So hone your blades and sharpen your wits as you do battle with the foes in Season 4 of Pathfinder Society Organized Play. If we see in our reports that you have soundly beaten all that Varisia can throw at you, then we shall launch that raid, share the spoils, and tell stories about it for years to come. If not... I know that the Skull & Shackles Adventure Path promises adventure on the high seas, but I cannot imagine our Chronicle sheets would survive walking the plank.
Rules for sanctioning the Skull and Shackles Adventure Path for Pathfinder Society Organized Play are ready to launch, but we await your reporting of Season 4 scenarios. Play and report as much as you can. The more activity we see, the sooner you shall see rules for new Adventure Paths. Comment in character here, and so long as I see that you have participated in at least one Season 4 scenario since, you may be one of the characters called out in a later blog's narrative should we perform the raid.
John Compton
Developer