We're so deep in a state of relief here at Paizo after shipping all of our August/Gen Con releases to the printer this afternoon that I almost forgot to write this week's Pathfinder Battles preview blog! And since we certainly can't have that going into a gorgeous weekend filled with lots of stuff OTHER THAN work (for the first time in months!), I thought I'd take a few minutes to reveal some more cool minis from this summer's upcoming Skull & Shackles set of prepainted plastic fantasy miniatures!
Up first we have the Cyclops, a monocular giant whose folk once controlled a vast kingdom not far from the Shackles Isles. I have a soft spot for this particular monster, as I featured a Cyclops in my Pathfinder Tales free webfiction story, "Two Pieces of Tarnished Silver". I've long awaited the chance to bring our version of the Cyclops to Pathfinder Battles, and since cyclopes feature prominently in the Skull & Shackles Adventure Path, this set was my best chance. A Large figure, the Cyclops is slated at the uncommon rarity.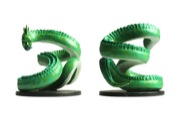 Several weeks ago we revealed Selissa, an off-size Medium Aquatic Naga NPC from the Skull & Shackles campaign. Fans of correctly-sized monsters will be pleased to learn that this set also includes a regular Large-sized Aquatic Naga, ready to terrorize the waterways of your campaign. This figure is an uncommon.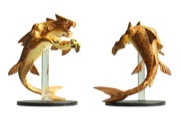 And last up this week we have the Sea Cat, a venerable monster of fantasy all dolled up in a shiny new Pathfinder version. Sea Cats are among my favorite aquatic monsters, and I'm thrilled to finally bring them to prepainted plastic. Like the Cyclops and the Aquatic Naga, the Sea Cat is also slated at the Uncommon rarity.
And that's it for this week. At long last the sun is shining down on Seattle, and I'm headed out of the office to do almost anything other than work. I hope your weekend is as fun as the one I'm planning to have!
It's not too late to set up an ongoing subscription to make sure you don't miss a single Pathfinder Battles release!
See you next week! I'll be the one with the suntan!
Erik Mona
Publisher