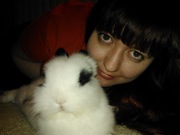 I'm Cassidy Werner, one of the new interns at Paizo. I'd like to say that I, along with my counterpart Jay, am one of the new rulers of Internistan. Unfortunately, our office has been relocated away from the warehouse and we have yet to find the Internistan flag.
I graduated from the University of Washington with a degree in International Studies, dreaming that I would one day become a diplomat. However, it was gently pointed out to me that I do not have the temperament for diplomacy. Since I usually play gold draconic bloodline sorceresses and love nothing more than casting indiscriminate fireballs, I was forced to agree.
Previously, I've worked as a horseback riding teacher, stagehand, carnie, barista, and, mostly recently, a college admissions official. After growing weary of crushing the dreams of starry-eyed high school students for a living, I did some soul-searching and decided to pursue my true passion: writing. The folks at Paizo have kindly taken me in to teach me the publishing business and I couldn't be more excited.
In my spare time, I enjoy archery, lock picking, futilely attempting to train my lion-headed bunny Aslan, and- of course- gaming. My fiancé and I currently play in two Pathfinder campaigns and are maxing out our Borderlands II characters.
Cassidy Werner
Editorial Intern