WizKids secret agents have been making multiple weekly trips to Paizo these days, and each time they show up they have a chest full of pirate's treasure. Ok, that's not true, but for nerds like me it's pretty close. In fact they've been bringing over the latest paint masters for figures in this summer's Skull & Shackles set of Pathfinder Battles miniatures, and man, they shine like the brightest gold to these old pirate eyes!
The new set supports the popular Skull & Shackles Adventure Path, and provides a host of creatures that have never before appeared in prepainted plastic (many of which, I might add, came from suggestions from the Pathfinder faithful—so keep those requests coming!). This week I present a motley, more or less random assortment of figures from the set.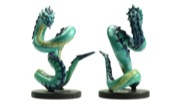 Up first is Selissa, a young aquatic naga pushed into the "civilized" lands of the Shackles isles by unusually dry conditions in her usual river habitats. That means she's hungry and desperate, and ready to bite a chunk of refreshing meat from your player characters.
Selissa is an interesting figure because she's size Medium, one step smaller than standard aquatic nagas. One of the cool things about basing these sets on actual characters from actual adventures is that it gives us a chance to do some oddball figures that maybe wouldn't make sense in a more "generic" set.
The figure looks amazing in hand, with vibrant blues and greens and an aquatic shine that adds an extra layer of creepiness.
"But she's the wrong size!" some might exclaim. "Why didn't you include a Large aquatic naga in the set?"
To which I'd reply. "She's the right size for Selissa, and a cool figure to boot. You'll just have to wait a bit longer to see the Large version that's ALSO in this set!"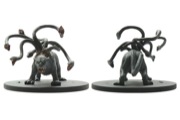 Up next we have a classic creature of fantasy gaming that to my knowledge has never before been produced in prepainted plastic. We call this Large abomination Shimerae, and in the Skull & Shackles Adventure Path she's the beloved pet (and convenient poison source) for a nasty alchemist.
In the real world, she's an amazing, amazing miniature that I can't wait to throw up against my hated enemies (by which I mean my players).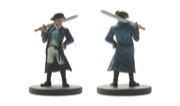 But it wouldn't be a proper Skull & Shackles preview without a kick-ass pirate, and this week we've got a baddy who you really don't want to run into on the open sea. I give you Arronax Endymion, Lord of Hell Harbor and renegade former commander of the Fourth Fleet of Imperial Cheliax. That didn't turn out for him, and now he ranks among the most powerful pirate lords of the Shackles Isles.
I think he also makes a nice sub for any kind of naval officer or player character with a naval background. By the time we're done with this set, you'll be able to pair him up with tons of different pirate lords OR team him up with Chelish naval officers, all of whom will be sailing into view in the coming weeks.
You can make sure you get all of these figures by setting up an Ongoing Pathfinder Battles Subscription today!
The set is scheduled for a summer release, so start getting your sea legs. There's a long and exciting voyage ahead!
Erik Mona
Publisher