Way back when we first announced Heroes & Monsters, the very first Pathfinder Battles prepainted fantasy miniatures set, we knew we needed to include Pathfinder goblins from the very start. It's an open secret that about half of that set was already in development at WizKids when we got involved, and a lot of the specifically Pathfinder creatures came relatively late in the process. Some of the figures, such as the Human Rogue and Orc Brute bear an uncanny resemblance to classic Mage Knight figures from the first era of prepainted plastic miniatures, whereas others like Seelah and the Ogre were more or less direct ports of Pathfinder art to miniature form.
The Goblin Warrior and Goblin Hero figures are examples of miniatures directly inspired by Pathfinder art, but what only some of the most astute Pathfinder Battles observers remember is that Heroes & Monsters was originally to include a third goblin, the mysterious Goblin Mystic.
Here's the weird tale about how that miniature failed to happen the first time, and how we finally got a chance to bring him out with the upcoming We Be Goblins Builder Series set due in stores in late May.
The original Goblin Mystic was a port from an existing WizKids sculpt, modified slightly so that it better matched the Pathfinder goblin art. The original sculpt featured a goblin sitting cross-legged on a floating flying carpet. This was problematic because flying carpets in Pathfinder are not appropriate treasure for most goblins. Worse, the original sculpt was much, much taller than a Pathfinder goblin, so the Goblin Mystic was as tall sitting down as our regular goblins were standing up, which wasn't something we could fix without scrapping the entire sculpt.
We decided to try to make it work anyway, and when we sent WizKids reference art for the only real "goblin mystic" that we had—the antagonist goblin druid Vorka from the original We Be Goblins! adventure, I'm afraid things went from bad to worse. The original sculpt was still way too big, only this time she was wearing a big dumb Gandalf hat on top of all the other problems.
Ultimately, we decided we couldn't make things work in time, and that the poor old Goblin Mystic would need to wait for a future set.
I'm pleased to report that the We Be Goblins Builder Series set offers us the perfect opportunity to reintroduce a "goblin mystic" to the Pathfinder Battles line, only this time without the troublesome flying carpet and at the correct scale.
And we decided to cut through the earlier problems by actually making the goblin mystic Vorka herself, rather than a freakishly tall monster simply wearing Vorka's hat.
So here she is in all her glory, the goblin villain Vorka!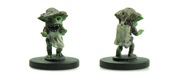 In addition to new friends like Vorka and her goblin player character adversaries from both the original We Be Goblins! adventure and Free RPG Day 2013's We Be Goblins Too!, the new We Be Goblins Builder Series set includes repaints of classic Pathfinder Battles sculpts like this major bad boy, the Goblin Warchief!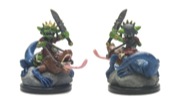 This upper-tier goblin villain comes with his very own riding lizard and a massive hate-on for the player characters. He's based on the Warchief Ripnugget figure from Rise of the Runelords, with a unique new paint scheme.
There are two more We Be Goblins figures left to preview, but a mix-up here at the office sent them to the factory before we had a chance to take good pictures of them.
Instead, next week we'll have to content ourselves with preview images of jaw-droppers from the very next full set, which we'll announce here on paizo.com early next week!
A double dose of Pathfinder Battles news? AMAZING!
You guys are going to explode when you see the figures from the next set.
Set your internal spontaneous combustion engines to next week. You are all about to go BOOM!
Erik Mona
Publisher