As I write this, the Pathfinder Adventure Card Game (which I described in an earlier blog) is getting ready to go to the printer. We're incorporating the last bits of feedback from playtesters and developers, templating the cards for consistency and flavor, and rearranging the rulebook so that it's fun and easy to read. This is the end of the development process, the point where a game designer gets ready to bid farewell to his design as it walks out the door for a rich new life.
As you can tell, I'm a little sad to see it go. I mean, I know it will do great things. If, as they say, it takes a village to raise a child, then this child got one mighty fine upbringing. Even if it started as a very different sort of child indeed.
Conceived out of mad science in my lab, born of the unholy union of Epic Roleplaying Game™ and Cooperative Card Game™, the Pathfinder Adventure Card Game was not destined to go unnoticed. The first clue was its larger than average size. At 1,155 cards released over a year, it's a colossus. At the point I learned that all of them would fit in the same box, I thought, "Man, that is some box." All of Rise of the Runelords packs into more than 30 epic adventures. That is a lot of adventures.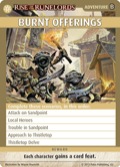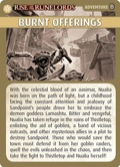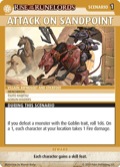 The front and back of the adventure Burnt Offerings, and both sides of its scenario Attack on Sandpoint.
But it isn't a hulking brute. This game has moves. It plays with a catlike grace, whipping along and keeping you in suspense as you play. If you're the kind of person who looks at a polar bear and thinks, "I'll bet that big thing can't catch me," you're gonna get caught by this game too. Once you set up a session, the game will guide you through a thrilling adventure, ticking down to a moment where panic will set in as to whether your party will win or lose. And just like that cuddly polar bear, make no mistake: This game might just kill you. It's sure gonna try, anyway.
Oh yeah, the whole village thing. This game went through a stellar development team, both in my group (Chad Brown, Paul Peterson, Gaby Weidling, and Tanis O'Connor) and at Paizo (Vic Wertz, Wes Schneider, James Jacobs, and Jason Bulmahn). At some point, I convinced the Paizo team to run a "semi-open alpha test," where we gave it to more than three hundred Pathfinder Society members and said, "Break this thing."
Boy, did they. Over three months of testing, we received thousands of pieces of feedback. A single card might have 30 forum comments about it; put two cards together and a vigorous debate about card combos would break out. My favorite thread title: "Harpy + Treacherous Cave raises suck to a new level."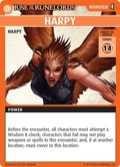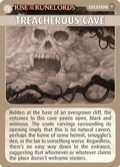 The monster card Harpy, both sides of the location card Treacherous Cave, and Teleport, the spell you wish you had when you encounter the former in the latter.
Everything got sanded down and reshaped. Vic, Chad, and I were on the super-secret playtest forum every day, answering questions and updating the game at a breakneck pace. The Pathfinder players made our game into their game.
The game has been through an epic journey over a year's time, just like you will make when you play it. And now, it's getting ready to leave the nest. I'm going to miss it. But it's coming home for summer, and I'm keeping its room open.
Mike Selinker
Lone Shark Games