Work has been so busy lately I can hardly think straight. So here I am at 4:00 on a Friday afternoon, and I only now realized that I forgot to put together a preview blog for January's upcoming Shattered Star set of Pathfinder Battles prepainted fantasy miniatures!
I want to keep this week's preview short and sweet, and honestly the best way to do that is to focus on one of the set's sweetest miniatures: the Wyvern.
Check out this masterful miniature!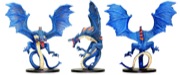 This figure is amazing. I'd place it among the 10 most impressive figures in the Shattered Star set (yes, that means there are still plenty of jaw-droppers we haven't revealed yet). Best of all, this guy is an UNCOMMON.
Watch out, horses!
And here's a nice little size comparison to show what the Wyvern looks like next to a Medium-sized figure, in this case our iconic cleric Kyra!
So yeah, there's that. This Large figure is super-cool, but there are even cooler figures coming!
And there's also big movement behind the scenes on the Pathfinder Battles front. One of the reasons I'm so tired this week is that I've spent most of my waking hours deciding on the contents of the next TWO SETS worth of miniatures for our friends at WizKids, along with more than 100 images for their sculptors to get to work on immediately.
2013 is going to be an absolutely Gargantuan year for Pathfinder Battles!
No preview blog next week, as yours truly will be enjoying turkey with family for Thanksgiving. After that, though, I promise something extra-delicious in Pathfinder Battles Preview Land!
Erik Mona
Publisher