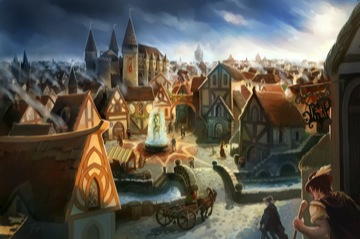 Illustration by Guz Boroda
When I started playing Pathfinder Society more than 3 years ago, I realized the more I gave to it, the more I got from it and the more valuable it became to me. While it may not be a universal truth, I believe that when you work for something, you value it more than if it was just given to you. Also, I find that when you give back to your community, it too becomes stronger and more valuable.
Pathfinder Society Organized Play is a social, roleplaying game where people come together in public to enjoy our favorite pastime. Pathfinder Society is built upon this community. Even if you only play with friends at home, this group is your local gaming community.
In Georgia, I realized very quickly I couldn't run Pathfinder Society on my own, especially if I wanted the community to grow it and make it better. With a large area spread out across the Atlanta metro area, I simply couldn't make it to all the stores, meet all the players and store owners, recruit the GMs needed, and grow Pathfinder Society to the numbers I'd set as goals. This led me to being able to find a core group of store liaisons (today we call them Venture-Lieutenants) to help the community grow Pathfinder Society. Without the tireless efforts of Kyle and Nani Pratt, Joseph Caubo, Nicholas Gray, and John Compton, the community in Georgia wouldn't be as strong as it is today. The first thing we did was work to get a website in place so that all interested gamers had a place to gather and plan future game days, chat about Pathfinder Society in general, and brag about their accomplishments. In hindsight, this was the foundation of building a strong community.
I was going to expand on how my Venture-Lieutenants' contributions helped and were the foundation of one of the strongest player bases in the world, but that would take many more words. Instead, I am going to invite them to come here and share those experiences. They will do a much better job explaining their parts than I ever could. I will instead leave it at a simple thank you. Without all of their tireless efforts, we wouldn't have a community in Georgia; we would just have many splintered groups of gamers.
This blog post is an introduction to a topic that I will be including in a future version of the Pathfinder Society Guide to Organized Play, under the heading of 'The Pathfinder Society Community':
"The Pathfinder Society Organized Play Campaign is a global gaming community that exists because of the efforts of volunteers just like you. In joining the Pathfinder Society Community, your contributions—whether GMing, aiding in organizing events, helping new players, or just sharing your enthusiasm—are an essential part of Pathfinder Society membership. You are strongly encouraged to add your efforts to make this campaign better. It cannot exist without you and together we can do great things."
Our gaming communities would not continue to exist without your contributions, which is why we are adding this to the Guide—to highlight how vitally important it is that everyone gives back to his or her local Pathfinder Society gaming community. Let me add, we at Paizo do not have any expectations about how you give back; we only request that you do so. Your local Pathfinder Society community might already have some ideas about what being a member entails.
Many of the challenges that Pathfinder Society communities face, such as a lack of GMs, can only be solved by the community members, and the successes that happen are a result of many people working together toward a common goal. You matter. Your ideas matter. Your contributions matter. Together we make things happen.
Let's look at common ways to contribute to your Pathfinder Society community. This is in no way an exhaustive list. It is simply a list of common ways to give back:
Offer to GM. This one is first on the list because it is obviously the easiest and most important. There is a reason why we stress GMing so much. It's a great way to give back to the community and become a better player while you do it. We have established GM 101 training sessions to encourage quality GMing and we hope that all of you will try spending some time behind the screen.
Organize gamedays and local conventions. Anyone can organize a gameday or small convention, not just Venture Captains and Lieutenants. All you need is to arrange the gaming space, secure the GMs, promote the event to get players, and then report it. It's easy and provides a valuable service. You can become a local coordinator by coordinating a regular event, such as at a game store or even at home. Setting up new spaces on a regular basis provides new locations for players to play, and for new potential players to experience the community that Pathfinder Society offers and creates.

Help find and prepare new players for Pathfinder Society Organized Play. New players are the lifeblood of the Society. This very important as we will always have some attrition in the ranks. Spreading your enthusiasm by finding and teaching new Pathfinders what it means to be in the Society and helping promote your local events are of vital importance. If all you do is introduce one new player a month to the Society and your local playgroup, your Pathfinder Society community will grow stronger, and perhaps even become one of the most vibrant in the world.

You might be surprised who could be interested in Pathfinder Society. It's the perfect vehicle for people who have busy working and home lives, and who can't commit to a regular schedule, to still get their gaming fix. Talk openly and honestly about Pathfinder Society to people you come across, even if you don't think they fit the typical bill of a gamer.

Some additional reading can be found in Painlord's post here.

Other ways to contribute. The Pathfinder Society runs best when the environment is friendly and warm and people are recognized for their time and efforts. If you're the person who is always bringing pizza and sodas to thank GMs, taking the time to help the local coordinator design flyers, offering to do the reporting after the events, or printing materials for your local group, you are doing your part. There are many ways to contribute.
I believe that our Society will be stronger as more and more of us give back to the Society. I have seen it happen in Georgia... the more voices we had, the better we were together.
This is important to me and our Society... and that's why we are adding it to the Guide.
On a final note, tell us how you contribute, or plan to contribute, in your area's lodge during Season 4. The more ideas we have to show people, the better off Pathfinder Society will be as a whole.
If this blog receives enough positive feedback, I think it could lead to a series of monthly blogs, each one getting into the details of the bullet points above or other similar topics. Let me know what you think and I look forward to reading your suggestions on building a better Pathfinder Society community.
I want to thank Eric Brittain (Venture Captain of San Diego), Nani Pratt (Co-Venture Captain of Atlanta), Joshua Archer (Venture Lieutenant of San Francisco), Jeff Kokx (aka Drogon), and Kyle Baird (as himself). Their feedback and help with this blog allowed me to get the above thoughts and message out and were invaluable in this week's Pathfinder Society blog post.
Mike Brock
Pathfinder Society Campaign Coordinator