We've just finished laying out the packaging for the upcoming Shattered Star set of Pathfinder Battles prepainted plastic fantasy gaming miniatures, which means we'll very shortly have the product up for pre-order! These figures support the new Shattered Star Adventure Path, but are of course usable in any fantasy campaign.
At this point, all of the sculpts have been approved, and the only figure still in painting is the enormous Gargantuan "case incentive" miniature, whose big reveal is still probably a few weeks away.
While we wait for these important milestones, let's take a look at more figures from the set. Come along, won't you?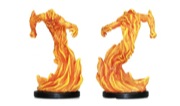 Here we have the Medium Fire Elemental in all his burning glory! Emerging from a pillar of flame, this guy stands about a foot taller than your average adventurer, which I think qualifies as "fiery death from above." He's sculpted in clear plastic, and should look extra-flamey when light shines through his clear bits.
Why call this guy a "medium" fire elemental, you might ask? Well, because there is another fire elemental at a different size coming in a future preview.
Just kidding. Here he is. This beast is the Large Fire Elemental.
This guy is WAAAAAAY bigger than a normal adventurer. Heck, he's bigger than the biggest ogre we've produced to date. He is SO BIG that it almost seems like he should fit on a Huge base. But no, he is in fact Large. We just love putting as much value into a miniature as possible, and the Large Fire Elemental is a good example of that principle in action. It's also a suggestion that if we ever do a truly Huge fire elemental in the future, it's going to be absolutely astoundingly enormous. Again, the Large Fire Elemental is sculpted in clear plastic for extra fiery effect.
And because we're about to reveal packaging that has this next guy on it anyway, I've decided to include a bonus figure in this week's preview. The Guiltspur Naga!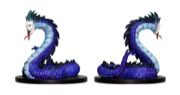 This creature is one of many of its kind that traveled up through the Darklands and into the ancient Thassilonian ruin of Guiltspur, site of the Shattered Star's fifth adventure, "Into the Nightmare Rift". This creature is Large and in charge. And in the office next to mine, our Creative Director James Jacobs is working on this creature's encounter RIGHT NOW!
Because production on the set is still in swing, we have not yet assigned solid rarities to any of the figures in the set, including these. Keep your eyes on this space in the next couple of weeks for specific details on the set's configuration, price, and release date.
There's a lot more where these came from!
Erik Mona
Publisher