Paul Randles' Final Game: Key Largo

Tuesday, February 12, 2008

In February 2003, Pirate's Cove designer Paul Randles died of cancer. That story didn't have a happy ending. This one does.

A year earlier, Paul drafted a deep-sea diving board game he called Treasure Hunt. Players would salvage treasure from shipwrecks off the Florida coast. The game had pop-up boats, and little cardboard shipwrecks with treasure disks. Paul wanted a European publisher to publish it, but it wasn't good enough yet. A solid 6 on the scale of 1 to 10, he said. It better at least be a 9 before it hit the street.

Then he got sick. I didn't know how to help. My wife did. Evon suggested I ask Paul for Treasure Hunt. I'd develop the game with him, and then find a publisher to put it out. For the last months of his life, we worked on the game together.

I gave him a 21-Nerf-gun salute at his funeral, and told the legions of game industry folk there that I was shopping Treasure Hunt. It was a pretty good game by this point. Maybe an 8.

At an Ohio convention, I met Bruno Faidutti, the French designer of Citadels. He knew of Paul and wanted to help. Within a month he had restructured the game he was now calling Treasure Island into a great game. A 9 for sure. Gone were the pop-up boats and the cardboard shipwrecks, replaced now by full-size boats and card decks of sunken treasure. Now we could find someone to publish it.
Every publisher wanted to see the game, because Paul had a lot of friends. A major American board game company wanted to convert it to a dungeon-crawl game. I thanked them and declined. (Side story: Based on this, I did design that dungeon game, with my co-designer James Ernest of Cheapass Games. That game, Dungeonville, came out from two more publishers, Z-Man Games and Pegasus Spiele. So Paul's game has a son, and he's bilingual.)

Then Tilsit Editions of France made an offer, which Bruno, Paul's widow Katty, and I accepted. Editor Nicolas Anton proposed adding people you could meet on the island, the last thing the game needed to become a 10 out of 10. Tilsit renamed it Key Largo, gave it a fancy cover and a modular board, and released it in 2005 in German, Italian, and French. Which was great, except I don't speak any of those languages very well.

But I do speak English, and I do know Lisa Stevens, the CEO of Paizo Publishing. Lisa was looking to start a new line of board games, which eventually I helped forge into Titanic Games, the publisher of the color version of Kill Doctor Lucky and Stonehenge: An Anthology Board Game. Titanic needed a third game, so I looked at the name of the company and said, "How about one about sinking ships?"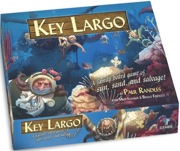 How about it indeed, she said. And so, in February 2008, five years to the month after Paul's passing, Titanic Games will be releasing the full-color English version of Key Largo, with all-new art and all-new components delivered by graphic designer James Davis. The English edition has a large one-piece board, nice wooden boats, fifteen delightful divers, and beautiful cards with art from Ben Huen and Andrew Hou. Everyone we've shown it to says it's a work of art. I like those people.

The game has undergone a lot of facelifts since Paul's fun little prototype, but there's something unmistakably Paul-ish in the final version. That's why the money in the game bears the inscription "E Paulibus Unum," which I can pretend means "In Paul We Trust."

I can't play Key Largo with Paul, but now I can play it with you.

Mike Selinker
Titanic Games Brand Manager
More Paizo Blog
.
---
Tags: Key Largo Paul Randles Titanic Games
Link
.
Sign in to start a discussion.