Happy Holidays!
... Illustration by Matt Dixon. Widescreen version here. ... Happy Holidays! December 24, 2010None of us are in the office today, we're hither and yon, fording rivers and traveling through woods, celebrating the holiday weekend with family and friends. However, we hope you enjoy this week's wallpaper and that you have a wonderful holiday, eat as much great food as you can, and have the chance to decorate your home with the finest crystals available. ... From all of us, to all of you, may you...
More Paizo Blog
.
---
Tags: Balazar Crystal Frasier Eidolons Gnomes Iconics Matt Dixon Paizo Summoners Wallpapers
---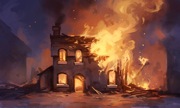 What a Twist!
... What a Twist! Tuesday, April 27, 2010Things continue to be very hectic around here as we ride the wave of the convention season tsunami. So much so that a few stealthy projects have slipped through the cracks here on the blog. For example, Plot Twist Cards. So here's a brief gallery of just a few of the deck's dozens of awesome illustrations, all from the delightfully demented brush of illustrator Matt Dixon. Enjoy! ... Illustrations by Matt Dixion ... Wes Schneider ... Managing Editor ...
More Paizo Blog
.
---
Tags: Animals Cards Demons GameMastery Matt Dixon Monsters
---