Magic Archetypes
... Magic Archetypes Tuesday, April 12, 2011For the next month or so, every Tuesday we are going to be digging into some of the new rules and options you will find in Ultimate Magic, which is due to release in May. This week, we'll take a look at some of the new archetypes that take up a full 32 pages of this 256 page tome. ... One of the first things you will notice about this book is that the new classes from the Advanced Player's Guide receive archetypes in this book (except the cavalier,...
More Paizo Blog
.
---
Tags: Alchemists Archetypes Clerics Design Tuesdays Eric Belisle Pathfinder Roleplaying Game Undead
---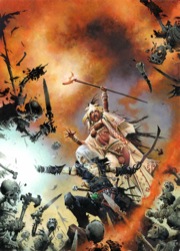 Ultimate Magus Feedback
... Illustration by Wayne Reynolds ... Ultimate Magus Feedback Tuesday, December 14, 2010As you can imagine, life around here is all about Ultimate Magic. So being the new entity, I get to write a bit in the blog about the project. I know; it's a rough life. ... You rules junkies will already know all about this, but one of the great parts of the book is the new base class—the magus. If you're anything like me, some days you wake up and ask yourself: How do I kill my enemies today,...
More Paizo Blog
.
---
Tags: Archetypes Magi Pathfinder Roleplaying Game Playtest
---