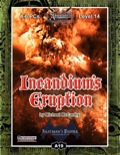 Our Price: $6.99
Add to Cart
A19: Saatman's Empire #3—Incandium's Eruption (PFRPG) PDF
AAW Games






(based on

1

rating)
by Michael McCarthy ... Incandium's youth was fairly typical, at least for a half-dragon raised amongst dragons, filled with years of endless physical and mental abuse. It was always clear he was different than his clutch-mates, though his mother only claimed it was because he was...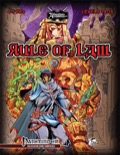 Our Price: $6.99
Add to Cart
Rule of Law (PFRPG) PDF
AAW Games






(based on

1

rating)
A Pathfinder/3.5 Compatible Adventure for 4-5 PCs of levels 14-16 ... Order! Order! Court in session. All rise for the judges! When the Law speaks, everyone listens closely in Mohkba. ... As you become more well-known, you often find that you are called upon to help out in strange situations. And...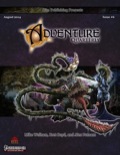 Add Print/PDF Bundle $19.99
Add PDF $9.99
Adventure Quarterly #6 (PFRPG)
Rite Publishing






(based on

2

ratings)
Fungi, Artifacts, and Mechs, Oh My! ... With our next installment to the Ruins Perilous, dangerous wonders are birthed from the spoils left by those that came before. The Fungarium carved itself into being from the leavings of a formerly grand banquet hall, an excursion by myceloids, and the...