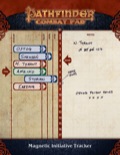 Our Price: $24.99
Add to Cart
Pathfinder Combat Pad
Paizo Inc.






(based on

7

ratings)
Never miss a turn with the Pathfinder Combat Pad initiative tracker. Usable with any roleplaying game, this wet and dry erase board includes magnets that stick right to it! List the names of heroes and foes on the magnets using a wet or dry erase marker, then place them in initiative order. When...

Our Price: $2.99
Add to Cart
Pathfinder Map Pack Storage Box
Paizo Inc.






(based on

9

ratings)
Build the Perfect Adventure! ... Be prepared for every adventure by collecting your Pathfinder Map Pack tiles in one convenient spot. Whether you're building the ultimate city, labyrinthine caverns, or an entire dungeon, have all the pieces at your fingertips with this perfect companion to the...