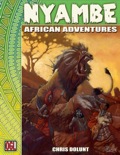 Add PDF $19.20
Add Hardcover $10.00
Nyambe: African Adventures (OGL)
Atlas Games






(based on

4

ratings)
In the Land of the Overpower, ... The Jaws of the Lion ... Are the Only Reward ... For the Unwary. ... Nyambe is a vast land of exotic creatures and wide expanses, where ancestral orishas cry for brave warriors to carve out the hearts of foul mchawi wizards, and where dragon-blooded sei sorcerers...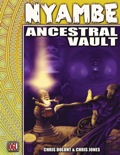 Our Price: $10.67
Add to Cart
Nyambe: Ancestral Vault (OGL) PDF
Atlas Games

The most powerful magic is sometimes the most ancient. Drawn from the sweltering rainforests and dangerous savannahs of Nyambe, Ancestral Vault brings gamers a rich hoard of African-flavored treasures and equipment. This sourcebook describes mundane OGL System equipment, special and superior...