Display Unavailable
Starter Unavailable
HUM Aliens CCG Challenge Starter
Alderac

Lifeforms from across the universe struggle to reach the mythical planet HA, where ancient power and knowledge may save them from the threat of the Robot invaders... and, hopefully, from an even greater menace that lay just beyond their senses and understanding. Join your favorite faction in...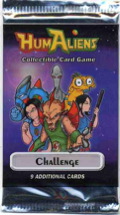 Display Unavailable
Booster Unavailable
HUM Aliens CCG Challenge Booster
Alderac

In a distant future Universal Lifeforms struggle for survival using every weapon, psychic powers, advanced technology, and the assistance of paranormal extra-terrestrials! This is an exciting setting that will attract a wide audience of young CCG players. Humaliens is an Anime-based combat game...