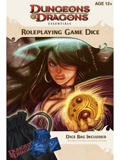 Our Price: $12.99
Unavailable
Dungeons & Dragons RPG: Dice Set
Wizards of the Coast

Everyone who plays D&D needs a set of polyhedral dice to make attack rolls, skill checks, and saving throws! This product includes a dice bag and a complete set of official D&D game dice: one 4-sided die, one 6-sided dice, one 8-sided die, one 10-sided die, one 12-sided die, and one 20-sided die.

List Price: $19.95
Our Price: $17.96
Add to Cart
Dungeons & Dragons RPG: Tomb of Annihilation Dice
Wizards of the Coast

This beautiful, full-metal container embossed with the classic devil face appearing prominently on the cover of the Tomb of Annihilation D&D adventure contains a complete set of ten dice (one d20, d12, d8, and d4, plus two d10 and four d6).