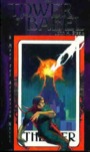 Our Price: $5.99
Unavailable
Tower of Babel: A Mage The Ascension Novel
White Wolf Publishing

Meet Max Zorn, Inquisitor for the Theocracy, the benevolently despotic oligarchy that rules the world. Zorn has recently defeated a dangerous enemy of the Theocracy and is about to embark upon a crusade against the subversive organization that spawned him. In reality, however, Zorn is a character...

Our Price: $5.99
Unavailable
War in Heaven Paperback
White Wolf Publishing

WAR IN HEAVEN (White Wolf Books, 1998) - Third novel in THE HORIZON WAR trilogy - A desperate war rages in the Horizon Realms, the mystic dimensions that surround Earth. The mages of both the Technocracy and the Nine Traditions are under attack by a mysterious willworker who calls himself Heylel...