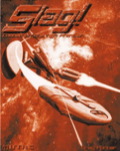 Our Price: $5.50
Add to Cart
Slag! PDF
BTRC

Slag! is the space combat game for people who aren't rocket scientists and who don't have an aerospace budget...but still want a realistic game. ... Slag! boils things down to the minimum level, but still gives you multiple Tech Levels, complete ship design rules, and enough optional systems to...

Our Price: $10.00
Add to Cart
soft landing v1.0 PDF
BTRC

The world is running out of everything at the same time that everyone wants more of it. Or maybe not. ... soft landing is a game of politics, economics, diplomacy and a little bit of strongarming and backstabbing. Each player runs a different world power, and tries to either bring about a new era...