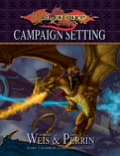 List Price: $39.95
Our Price: $19.98
Add to Cart
Dragonlance Campaign Setting (d20)
Publisher Services, Inc.






(based on

2

ratings)
A Dungeons & Dragons Campaign Setting by Margaret Weis, Don Perrin, Jamie Chambers, Christopher Coyle ... Sagas from the lands of Krynn are filled with valiant heroes destined to discover ancient secrets and vanquish terrible evils. Like those great champions, you will band together with brave...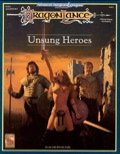 Our Price: $9.95
Unavailable
AD&D Dragonlance—DLR3: Unsung Heroes Print Edition
TSR

Caramon, Raistlin, Tika, Laurana, Tanis, Sturm, Flint, Tasselhoff... heroes all, their names are known by everyone familiar with their saga. But there are others as well: veterans of the War of the Lance, players behind the scenes, and even those who had no involvement wit the War whatsoever who...