Village Vidiot
---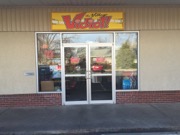 1220 W Elizabeth St Ste D
Fort Collins, CO 80521-4675
970-493-0483
brassos@hotmail.com
http://thevillagevidiot.com
11am to 11pm 7 days a week
We are a full service game store and video store. We have a large gaming room with multiple tables for use absolutely free!
Lots of snacks and drinks as well.
Open 11 am to 11 pm daily, we can satisfy all your entertainment needs!
We support the Pathfinder Adventure Card game with core sets, character decks and scenario decks.
Come by anytime and say hi!
Pathfinder Adventure Card Game
Board Games
Card Supplies
Dice
In-Store Gaming
Magic: The Gathering
Other RPGs
Trading Card Games