The Frozen Orc
---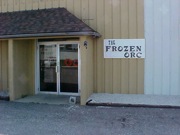 1005 Corporate Dr
Mount Pleasant, MI 48858-1015
9898544473
nlabarge2@chartermi.net
www.facebook.com/thefrozenorc
Sunday-Monday Closed
Tuesday, Wednesday, Friday 12pm-8pm (or until events end, usually 10-11pm)
Thursday 12pm-6pm
The Frozen Orc is a gaming store. We run many organized play events, such as, Pathfinder Adventure League, Pathfinder Adventure Card game, Friday Night Magic, D&D expeditions, Star trek Attack Wing, and Heroclix. We also have several non organized play role playing games and held weekly. Wednesday is an open gaming day in which we introduce and play any king of game, deck building games, board games, and other table top games. If you have a game you like we have numerous players who will try most anything.
I am Norm, the store owner, and I started playing board games in the late 1960's, miniature games in the 1970's, and was introduced to role playing in 1977. I still am an active gamer. I play a lot of, but, not all of the games in the store.
The store has enough room to seat 30+ players and usually there are multiple games going on every day.
Pathfinder Adventure Card Game
Pathfinder Campaign Setting
Pathfinder Cards
Pathfinder Maps
Pathfinder Modules
Pathfinder Player Companion
Pathfinder Roleplaying Game
Pathfinder Roleplaying Game Compatible Products
Pathfinder Tales

Board Games
Card Supplies
Dice
Dungeons & Dragons
Fiction
Games Workshop
HeroClix
In-Store Gaming
Kill Dr. Lucky

Magic: The Gathering
Miniature Paints/Supplies
Other RPGs
Privateer Press
Reaper
Trading Card Games
Used Games