Great Escape Games
---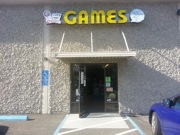 1250 Howe Ave Ste 3A
Sacramento, CA 95825-3480
916 927 0810
scott.anderson1219@hotmail.com
http://www.greatescapegames.com/
Monday – Thursday: 11am to 10pm
Friday: 11am – midnight
Saturday: 11am – 10pm
Sunday: Noon – 6pm
Great Escape Games has been in Sacramento for 18 years. The store has sold Pathfinder products since releasing the adventures for 3.5 edition of D&D. We have sold the Pathfinder Adventure Card Game since it has released.
Great Escape Games has a large warehouse game room that can host up to 300 customers. We run events for many games, including a large number of games for Sacramento Pathfinder Society.

Great Escape Games is in the back of the shopping center where Ross and Marshals are located.
Pathfinder Adventure Card Game
Pathfinder Adventure Path
Pathfinder Campaign Setting
Pathfinder Cards
Pathfinder Maps
Pathfinder Modules
Pathfinder Player Companion
Pathfinder Roleplaying Game
Pathfinder Roleplaying Game Compatible Products

Pathfinder Tales
Board Games
Card Supplies
Dice
Dungeons & Dragons
Fiction
Games Workshop
HeroClix
In-Store Gaming

Magic: The Gathering
Miniature Paints/Supplies
Other RPGs
Privateer Press
Reaper
Trading Card Games
Used Games