Dreams of Conquest
---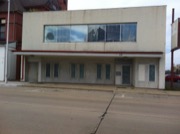 119 Washington Ave
Bay City, MI 48708-5845
989-439-1093
store@dreamsofconquest.com
https://www.dreamsofconquest.com/home.html
Tues - Sat 12pm - 9ish pm
Sun 2pm-8ish pm
Ish means if people are here playing, we are open.
Dreams of Conquest grew from a desire to have a place to game. Maybe find a pickup Pathfinder game or quick skirmish with your space marines. A place that felt comfortable and had enough space to spread out if need be. Maybe a place to paint or customize your flagellants or Sherman tank. A place to find new interests or rekindle old ones. A place to have FUN. We try to provide that environment.
Pathfinder Adventure Path
Pathfinder Maps
Pathfinder Player Companion
Pathfinder Roleplaying Game
Pathfinder Roleplaying Game Compatible Products
Board Games
Card Supplies
Dice
Dungeons & Dragons

Games Workshop
In-Store Gaming
Magic: The Gathering
Miniature Paints/Supplies
Other RPGs
Privateer Press
Reaper
Trading Card Games