Dragon Star Hobbies
---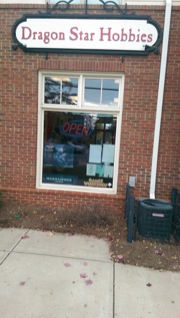 1040 Gaines School Rd Apt 113
Athens, GA 30605-6336
706 850 6181
dragonstarhobbies@gmail.com
www.dragonstarhobbies.com
M-Thursday 10am-10pm
Friday 10am-12pm
Saturday 10am-12pm
Sunday 11am-7pm
Athens' premier hobby store for all games.

We host bi-weekly pathfinder society with 2-4 table tops during each time slot. We also host weekly pathfinder pickup games and the new skulls of shackleport league play.

We have events going on 7 days a week with magic the gathering every day. We also host board gaming every Monday.
Pathfinder Adventure Card Game
Pathfinder Adventure Path
Pathfinder Campaign Setting
Pathfinder Cards
Pathfinder Maps
Pathfinder Player Companion
Pathfinder Roleplaying Game

Pathfinder Roleplaying Game Compatible Products
Board Games
Card Supplies
Dice
Dungeons & Dragons
Games Workshop
HeroClix

In-Store Gaming
Magic: The Gathering
Miniature Paints/Supplies
Other RPGs
Privateer Press
Reaper
Trading Card Games