Dice Bag Games Ltd.
---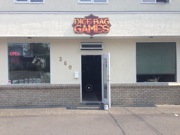 #102-360 Festubert St
Duncan, BC V9L 3S9
Canada
250-597-1992
goobs@dicebaggames.ca
dicebaggames.ca
Sunday - 11:00 am to 5:30 pm
Monday - Closed
Tuesday - 11:00 am to 7:30 pm
Wednesday - 3:15 pm to 7:30 pm
Thursday - 3:15 pm to 7:30 pm
Friday - 11:00 am to 9:00 pm
Saturday - 11:00 am to 9:00 pm
About us....
We are three big (well...two big and one average height) geeks. We have come from different places to join forces and share our love of gaming within our community and the world at large!
We sell role playing games, board games, card games, miniature games and hobby supplies. Our humble shop features:
-A sizeable hobby room for customers to paint their latest miniatures or to create the gaming terrain of their dreams.
-Large gaming area separate from our retail space
-Over 1000 square feet of shop front means we have what you need

We are Dice Bag Games your home for awesome!
Pathfinder Adventure Card Game
Pathfinder Adventure Path
Pathfinder Campaign Setting
Pathfinder Maps
Pathfinder Modules
Pathfinder Player Companion
Pathfinder Roleplaying Game
Pathfinder Roleplaying Game Compatible Products

Board Games
Card Supplies
Dice
Dungeons & Dragons
Fiction
Games Workshop
In-Store Gaming
Kill Dr. Lucky

Magic: The Gathering
Miniature Paints/Supplies
Other RPGs
Privateer Press
Reaper
Trading Card Games