Desert Sky Games
---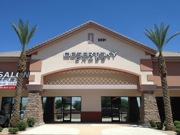 Fry's Shopping Plaza on Gilbert and Williams Field Rd
2531 S Gilbert Rd Ste 106
Gilbert, AZ 85295-5892
602-615-5214
desertskygames@me.com
http://desertskygames.com
Mon to Thu:10:00 am-10:00 pm
Fri & Sat:10:00 am-12:00 am
Sunday: Closed
Desert Sky Games is dedicated to providing an excellent customer experience with gaming.
We have a large area available to actually PLAY the games you enjoy, and friendly staff who are there to listen to your questions. We have frequent events and strive to be a clean and friendly place for people of all backgrounds to come have fun!
For more information and a calendar of events go to Desert Sky Games.
Board Games
Card Supplies
Dice
Dungeons & Dragons
In-Store Gaming
Kill Dr. Lucky
Magic: The Gathering
Trading Card Games