Collectors Inn
---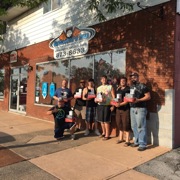 Buffalo NY
3107 Delaware Ave
Buffalo, NY 14217-2055
7168738633
collectorsinn@gmail.com
facebook.com/collectorsinn
Sun 12-6
Mon 10-10
Tue 10-10
Weds 10-12am
Thurs 10-10
Fri 10-1am
Sat 12-8
hours may change overtime.
We are a full line gaming and comic store looking to grow organized play for a variety of games in the Western New York area including pathfinder play.

We have just started offering organized pathfinder play on Tuesdays nights as of Sept 2015, the crowd is great and growing.
Pathfinder Adventure Card Game
Pathfinder Maps
Pathfinder Roleplaying Game
Pathfinder Roleplaying Game Compatible Products
Board Games
Card Supplies
Comics
Dice

Dungeons & Dragons
Games Workshop
In-Store Gaming
Magic: The Gathering
Miniature Paints/Supplies
Other RPGs
Privateer Press
Trading Card Games