Affinity for Gaming, Inc.
---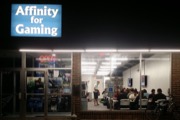 Affinity for Gaming, Inc.
19 Berkshire Dr Unit 3
Affinity for Gaming, Inc.
Crystal Lake, IL 60014-3244
8155290968
affinity4gaming@gmail.com
Affinity+for+Gaming%2C+...st+Berkshire%2C+Unit+3
Monday through Thursday 12:30pm until 11:00pm (later if needed), Friday 12"30pm until 4:00AM, and Saturday/Sunday 12:30pm until 11:00PM
We are a gaming store that sells board games and collectible card games. We also carry a wide selection of singles and hold competitions for games. We hold Dungeon & Dragons every Wednesday and Sundays. We have a large selection of dice, books, maps, figures.
Pathfinder Adventure Card Game
Pathfinder Roleplaying Game
Pathfinder Roleplaying Game Compatible Products
Board Games
Card Supplies
Dice

Dungeons & Dragons
In-Store Gaming
Magic: The Gathering
Other RPGs
Trading Card Games