Exploring ancient burial grounds and protecting the corpses of the honored dead from unholy transformation are standard fare for bold adventurers. But no Game Master wants to spend valuable game time drawing every looted grave and undead-haunted sepulcher. Fortunately, with Paizo Publishing's latest GameMastery Map Pack, you don't have to! Inside, you'll find 18 captivating 5" × 8" map tiles, all specially coated to allow you to use wet erase and dry erase markers, then remove ink with ease!
This set includes:
Catacombs
Noble's Crypt
Ghoul Lair
Defiled Mausoleum
Soldier's Tomb
Game Masters shouldn't waste their time sketching maps every time an adventure calls for a haunted tomb. With GameMastery Map Pack: Crypts, you'll be ready next time your players go dungeon crawling! Plus, combine this set with GameMastery Flip-Mat: Necropolis to show your crypts in the context of a huge cemetery!
For use with all tabletop roleplaying and miniatures games and usable by experienced GMs and novices alike, this product fits perfectly into any Game Master's arsenal.
Good GMs can never have too many maps at their disposal, and Paizo's GameMastery Map Packs provide high-quality gridded maps for use with both RPGs and miniatures games.
ISBN-13: 978-1-60125-323-1
GameMastery Map Pack: Crypts is designed to work with GameMastery Flip-Mat: Necropolis.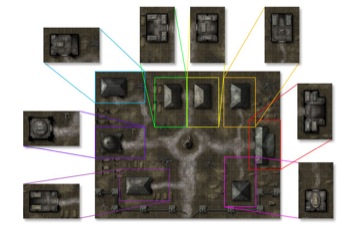 Print Edition: Ships from our warehouse in 1 to 7 business days.
PDF: Will be added to your My Downloads Page immediately upon purchase of PDF.
Non-Mint: Unavailable This product is non-mint. Refunds are not available for non-mint products. The standard version of this product can be found here.
Are there errors or omissions in this product information? Got corrections? Let us know at store@paizo.com.