The mean streets of the big city come alive with Flip-Mat: City Streets, setting the scene for a dark alley ambush, rooftop chases, or other urban encounters. Combine the mat with GameMastery Map Pack: Shops for building interiors designed specifically for use with this accessory or use the Flip-Mat on its own to provide your players with dynamic urban adventuring they won't soon forget!
This portable, affordable map measures 24" x 30" unfolded, and 8" x 10" folded. Its coated surface can handle any dry erase, wet erase, or even permanent marker. Usable by experienced GMs and novices alike, GameMastery Flip-Mats fit perfectly into any Game Master's arsenal!
On tabletops across the world, the Flip-Mat Revolution is changing the way players run their fantasy roleplaying games! Why take the time to sketch out ugly scenery on a smudgy plastic mat when dynamic encounters and easy clean-up is just a Flip away?
Cartographer: Corey Macourek
ISBN-13: 978-1-60125-282-1
Flip-Mat: City Streets is designed to work together with Map Pack: Shops.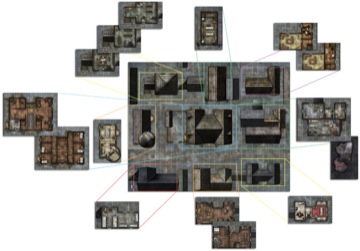 PDF: Will be added to your My Downloads Page immediately upon purchase of PDF.
Print: This product is out of print.
Are there errors or omissions in this product information? Got corrections? Let us know at store@paizo.com.