Deluxe Lotus Dice Bag
GBG Publishing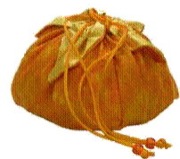 Blood Discontinued
Chocolate Discontinued
Fire Discontinued
Forest Discontinued
Indigo Discontinued
Magenta Discontinued
Snow Discontinued
Violet Discontinued
Aqua Discontinued
Cherry Discontinued
Midnight Discontinued
Sea Discontinued
Designed by GBG's Rose, each bag is hand made by our GBG Staff and Volunteers. The bag opens wide so you can see your dice and rummage for what you need! Perfect for those that have multiple sets of dice. They have a simple drawstring system made of silk cord. Pull the "lotus petals" for easy opening. Holds approximately 30 to 40 regular size dice. Colors may vary slightly from photo.
Discontinued These products have been discontinued by the manufacturer or are no longer being carried by our distributor.
Are there errors or omissions in this product information? Got corrections? Let us know at store@paizo.com.
GBG030011