Praise and Reviews

The Pathfinder Tales novel Death's Heretic was ranked #3 on Barnes & Noble's list of the Best Fantasy Releases of 2011, and was a finalist for the Compton Crook Award for Best First Novel. Check out what people are saying about Pathfinder Tales:

"Well-written fantasy... richly imagined and full of vibrant life." ~Tulsa Book Review

"Compelling and full of action" ~Black Gate

"A nonstop romp through fabulous settings" ~Functional Nerds

"What a great yarn! It grabbed me at the outset and raced along, all of the characters coming alive but the action never flagging. Action, mystery, planar splendors and dangers, really memorable characters—this one has it all." ~Ed Greenwood, New York Times best-selling author
Charge forth into a world of adventure with Pathfinder Tales, novels set in the fascinating sword and sorcery world of the Pathfinder Roleplaying Game!
Pathfinder Tales novels are standalone adventures written by some of fantasy's top authors, such as New York Times best-seller Elaine Cunningham and Hugo Award-winner Tim Pratt. Here are the same nations, characters, and monsters that have inspired gamers around the world to new heights of imagination, and twice earned the prestigious ENnie Award for Best Campaign Setting.
Each Pathfinder Tales novel comes in mass-market paperback and ePub format, with new volumes released every two months. Available at bookstores across North America via Diamond Book Distributors, Pathfinder Tales novels are also available via subscription, with subscribers receiving free downloadable ePub and PDF versions of each physical book they purchase.
Click below for novel descriptions, sample chapters, and press releases. For more information, review copies, or interviews with the authors, contact Jenny Bendel at jenny.bendel@paizo.com.
Pathfinder Tales Web Fiction
Every week, Paizo's talented authors present Pathfinder Tales Web Fiction, serialized short stories set in the Pathfinder world. These completely free adventures stand alone, yet give a taste of the thrills to be found in Pathfinder Tales novels!
Pathfinder Tales Novels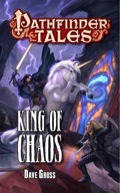 King of Chaos
by Dave Gross
August 2013
After a century of imprisonment, demons have broken free of the wardstones surrounding the Worldwound. As fiends flood south into civilized lands, Count Varian Jeggare and his hellspawn bodyguard Radovan must search through the ruins of a fallen nation for the blasphemous text that opened the gate to the Abyss in the first place—and which might hold the key to closing it. In order to succeed, however, the heroes will need to join forces with pious crusaders, barbaric local warriors, and even one of the legendary god callers. It's a race against time as the companions fight their way across a broken land, facing off against fiends, monsters, and a vampire intent on becoming the god of blood—but will unearthing the dangerous book save the world, or destroy it completely?
Download Sample Chapter (61 KB zip/PDF)
Press Release
The Wizard's Mask

by Ed Greenwood
July 2013

In the war-torn lands of Molthune and Nirmathas, where rebels fight an endless war of secession against an oppressive military government, the constant fighting can make for strange alliances. Such is the case for the man known only as The Masked, the victim of a magical curse that forces him to hide his face, and an escaped halfling slave named Tantaerra. Thrown together by chance, the two fugitives find themselves conscripted by both sides of the conflict and forced to search for a magical artifact that could help shift the balance of power and end the bloodshed for good. But in order to survive, the thieves will first need to learn the one thing none of their adventures have taught them: how to trust each other.

Download Sample Chapter (61 KB zip/PDF)

Pirate's Honor

by Chris A. Jackson
April 2013

A pirate captain of the Inner Sea, Torius Vin makes a living raiding wealthy merchant ships with his crew of loyal buccaneers. Few things matter more to Captain Torius than ill-gotten gold—but one of those is Celeste, his beautiful snake-bodied navigator. When a crafty courtesan offers the pirate crew a chance at the heist of a lifetime, it's time for both man and naga to hoist the black flag and lead the Stargazer's crew to fame and fortune. But will stealing the legendary Star of Thumen chart the corsairs a course to untold riches—or send them all to a watery grave?

Download Sample Chapter (61 KB zip/PDF)
Press Release

Liar's Blade

by Tim Pratt
February 2013

With strength, wit, rakish charm, and a talking sword named Hrym, Rodrick has all the makings of a classic hero—except for the conscience. Instead, he and Hrym live a high life as scoundrels, pulling cons and parting the weak from their gold. When a mysterious woman invites them along on a quest into the frozen north in pursuit of a legendary artifact, it seems like a prime opportunity to make some easy coin—especially if there's a chance for a double-cross. Along with a hooded priest and a half-elven tracker, the team sets forth into a land of monsters, bandits, and ancient magic. As the miles wear on, however, Rodrick's companions begin acting steadily stranger, leading both man and sword to wonder what exactly they've gotten themselves into...

Download Sample Chapter (74 KB zip/PDF)
Download Press Release (717 KB zip/PDF)

Called to Darkness

by Richard Lee Byers
December 2012

Kagur is a warrior of the Blacklions, fierce and fearless hunters in the savage Realm of the Mammoth Lords. When her clan is slaughtered by a frost giant she considered her adopted brother, honor demands that she, the last surviving Blacklion, track down her old ally and take the tribe's revenge. This is no normal betrayal, however, for the murderous giant has followed the whispers of a dark god down into the depths of the earth, into a primeval cavern forgotten by time. There, he will unleash forces capable of wiping all humans from the region—unless Kagur can stop him first.

Download Sample Chapter (74 KB zip/PDF)
Download Press Release (717 KB zip/PDF)

Queen of Thorns

by Dave Gross
October 2012

In the deep forests of Kyonin, elves live among their own kind, far from the prying eyes of other races. Few of impure blood are allowed beyond the nation's borders, and thus it's a great honor for the half-elven Count Varian Jeggare and his hellspawn bodyguard Radovan to be allowed inside. Yet all is not well in the elven kingdom: demons stir in its depths, and an intricate web of politics seems destined to catch the two travelers in its snares. In the course of tracking down a missing druid, Varian and a team of eccentric elven adventurers will be forced to delve into dark secrets lost for generations—including the mystery of Varian's own past.

Download Sample Chapter (74 KB zip/PDF)
Download Press Release (717 KB zip/PDF)

Blood of the City

by Robin D. Laws
August 2012

Luma is a cobblestone druid, a canny fighter and spellcaster who can read the chaos of Magnimar's city streets like a scholar reads books. Together, she and her siblings in the powerful Derexhi family form one of the most infamous and effective mercenary companies in the city, solving problems for the city's wealthy elite. Yet despite being the oldest child, Luma gets little respect—perhaps due to her half-elven heritage. When a job gone wrong lands Luma in the fearsome prison called the Hells, it's only the start of Luma's problems. For a new web of bloody power politics is growing in Magnimar, and it may be that those Luma trusts most have become her deadliest enemies...

Download Sample Chapter (61 KB zip/PDF)
Download Press Release (643 KB zip/PDF)

Nightglass

by Liane Merciel
June 2012

In the grim nation of Nidal, carefully chosen children are trained to practice dark magic, summoning forth creatures of horror and shadow for the greater glory of the Midnight Lord. Isiem is one such student, a promising young shadowcaller whose budding powers are the envy of his peers. Upon coming of age, he's dispatched on a diplomatic mission to the mountains of Devil's Perch, where he's meant to assist the armies of devil-worshiping Cheliax in clearing out a tribe of monstrous winged humanoids. Yet as the body count rises and Isiem comes face to face with the people he's exterminating, lines begin to blur, and the shadowcaller must ask himself who the real monsters are...

Download Sample Chapter (61 KB zip/PDF)
Download Press Release (643 KB zip/PDF)

City of the Fallen Sky

by Tim Pratt
May 2012

Once an alchemical researcher with the dark scholars of the Technic League, Alaeron fled their arcane order when his conscience got the better of him, taking with him a few strange devices of unknown function. Now in hiding in a distant city, he's happy to use his skills creating minor potions and wonders—at least until the back-alley rescue of an adventurer named Jaya lands him in trouble with a powerful crime lord. In order to keep their heads, Alaeron and Jaya must travel across wide seas and steaming jungles in search of a wrecked flying city and the magical artifacts that can buy their freedom. Yet the Technic League hasn't forgotten Alaeron's betrayal, and an assassin armed with alien weaponry is hot on their trail...

Download Sample Chapter (49 KB zip/PDF)
Download Press Release (799 KB zip/PDF)

Song of the Serpent

by Hugh Matthews
April 2012

To an experienced rogue like Krunzle the Quick, the merchant nation of Druma is full of treasures just waiting to be liberated. Yet when the fast-talking scoundrel gets caught stealing from one of the powerful prophets of Kalistrade, his only option is to undertake a dangerous mission to recover the merchant lord's runaway daughter—and the magical artifact she took with her. Armed with an arsenal of decidedly unhelpful magical items and chaperoned by an intelligent snake necklace happy to choke him into submission, Krunzle must venture far from the cities of the merchant utopia and into a series of adventures that will make him a rich man—or a corpse.

Download Sample Chapter (45 KB zip/PDF)
Download Press Release (565 KB zip/PDF)

Death's Heretic

by James L. Sutter
November 2011

A warrior haunted by his past, Salim is a problem-solver for a church he hates, bound by the death goddess to hunt down those who would rob her of her due. Such is the case in the desert nation of Thuvia, where a merchant on the verge of achieving eternal youth via a magical elixir is mysteriously murdered, his soul stolen from the afterlife. The only clue is a magical ransom note offering to trade the merchant's spirit for his dose of the fabled potion. But who could steal a soul from the boneyard of Death herself ? Enter Salim, whose unique skills should make solving this mystery a cinch. There's only one problem: The investigation is being financed by the dead merchant's stubborn and aristocratic daughter—and she wants to go with him. Together, the two must embark on a tour of the Outer Planes, where devils and angels rub shoulders with fey lords and mechanical men, and nothing is as it seems.

Download Sample Chapter (45 KB zip/PDF)
Download Press Release (565 KB zip/PDF)

Master of Devils

by Dave Gross
August 2011

On a mysterious errand for the Pathfinder Society, Count Varian Jeggare and his hellspawn bodyguard Radovan journey to the distant land of Tian Xia, on the far side of the world. When disaster forces him to take shelter in a warrior monastery, "Brother" Jeggare finds himself competing with the disciples of Dragon Temple as he unravels a royal mystery. Meanwhile, Radovan—trapped in the body of a devil and held hostage by the legendary Quivering Palm attack—must serve a twisted master by defeating the land's deadliest champions and learning the secret of slaying an immortal foe. Together with an unlikely army of beasts and spirits, the two companions must take the lead in an ancient conflict that will carry them through an exotic land, all the way to the Gates of Heaven and Hell and a final confrontation with the nefarious Master of Devils!

Download Sample Chapter (57 KB zip/PDF)

The Worldwound Gambit

by Robin D. Laws
May 2011

In the foreboding north, the demonic hordes of the magic-twisted hellscape known as the Worldwound encroach upon the southern kingdoms of Golarion. Their latest escalation embroils a preternaturally handsome and coolly charismatic swindler named Gad, who decides to assemble a team of thieves, cutthroats, and con-men to take the fight into the demon lands and strike directly at the fiendish leader responsible for the latest raids—the demon Yath, the Shimmering Putrescence. Can Gad hold his team together long enough to pull off the ultimate con, or will trouble from within his own organization lead to an untimely end for them all?

Download Sample Chapter (70 KB zip/PDF)

Plague of Shadows

by Howard Andrew Jones
February 2011

The race is on to free Lord Stelan from the grip of a wasting curse, and only Elyana, his old elven adventuring companion and former lover, has the wisdom and reflexes to save him. When the villain turns out to be another of their former companions, Elyana and a band of ragtag adventurers must set out on a perilous race across the revolution-wracked nation of Galt and the treacherous Five Kings Mountains, bound for the mysterious Vale of Shadows. But even if they can succeed in locating the key to Stelan's salvation in a lost valley of weird magic and nightmare beasts, the danger isn't over. For Elyana's companions may not all be what they seem.

Download Sample Chapter (56 KB zip/PDF)

Winter Witch

by Elaine Cunningham
November 2010

In a village of the frozen north, a child is born possessed by a strange and alien spirit, only to be cast out by her tribe and taken in by the mysterious winter witches of Irrisen, a land locked in permanent magical winter. Farther south, a young mapmaker with a penchant for forgery discovers that his sham treasure maps have begun striking gold.
This is the story of Ellasif, a barbarian shield maiden who will stop at nothing to recover her missing sister, and Declan, the ne'er-do-well young spellcaster-turned-forger who wants only to prove himself to the woman he loves. Together they'll face monsters, magic, and the fury of Ellasif's own cold-hearted warriors in their quest to rescue the lost child. Yet when they finally reach the ice-walled city of Whitethrone, where trolls hold court and wolves roam the streets as men, will it be too late to save the girl from the forces of darkness?

Download Sample Chapter (84 KB zip/PDF)

Prince of Wolves

by Dave Gross
August 2010

For half-elven Pathfinder Varian Jeggare and his devil-blooded bodyguard Radovan, things are rarely as they seem. Yet not even the notorious crime-solving duo is prepared for what they find when a search for a missing Pathfinder takes them into the gothic and mist-shrouded mountains of Ustalav. Beset on all sides by noble intrigue, mysterious locals, and the deadly creatures of the night, Varian and Radovan must use both sword and spell to track the strange rumors to their source and uncover a secret of unimaginable proportions, aided in their quest by a pack of sinister werewolves and a mysterious mute priestess. But it'll take more than merely solving the mystery to finish this job. For shadowy figures have taken note of the pair's investigations, and the forces of darkness are set on making sure neither man gets out of Ustalav alive...

Download Sample Chapter (72 KB zip/pdf)